Dave Grohl Plans to Record 25-Minute Song as Six Dave Grohls in One Take
By Andrew Magnotta
May 14, 2018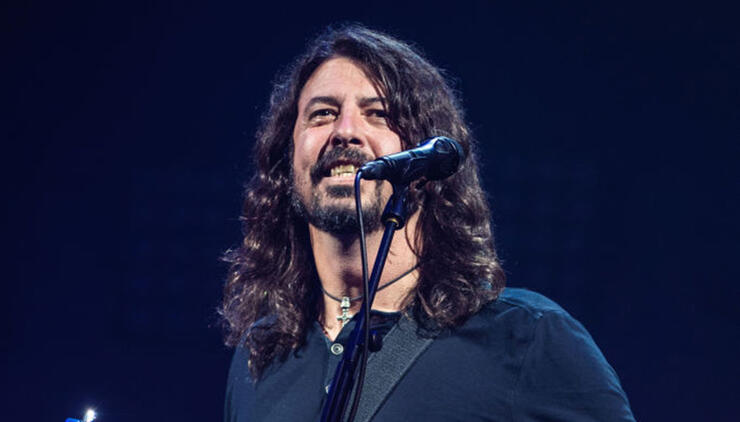 Foo Fighters frontman Dave Grohl has always been a band guy and never truly embraced his obvious potential as a solo act. After Nirvana, Grohl formed the Foo Fighters, and while there have been a number of side projects since, none have been eponymous.
Now Grohl has finally announced a solo project, but not at the expense of his arena-rocking main band; this one is more of an off-season experiment.
Grohl recorded the first Foo Fighters album by himself (before he had a band to alleviate some of the work load), but this time he's going into the studio with a twist on the solo concept: Six Dave Grohls playing one epic song in one take.
The plan is to set up dozens of instruments in his EastWest studio in L.A., including drum kits, guitars and basses and use a loop to record everything in one take.
"I'll hit play and the clock will start ticking," Grohl explains to Madison.com. "I will record the first drum part, then I will run to the next drum set and play another drum part that will record over the first. Then I will do the same with all the guitars, all assigned to a different moment in the instrumental."
Grohl says he plans to film everything with multiple cameras, "so by the end of it you will see and hear one song being played for 25 minutes, with six different Dave Grohls playing every note, on every single instrument, all the way through in one take."
The frontman says he might never release the result of the session, but he's going to do it anyway, "Just because I can."
Foo Fighters just finished their North American tour in support of their Concrete and Gold album, which was released last September.
The band has been in the news consistently over the past month or so. Between "KISS Guy," "Little Fonzie," Grohl nearly breaking his leg again and two fans getting married at a recent concert in Dallas, there's no shortage of good will in the Foos camp.
We certainly hope at least one of the six Dave Grohls agrees to release this new song. Whatever it is, it'll definitely be interesting.
Photo: Getty Images
Chat About Dave Grohl Plans to Record 25-Minute Song as Six Dave Grohls in One Take