T.I. Was Looking For A Fight Before His Arrest, According To Police Report
By Hayden Brooks
May 16, 2018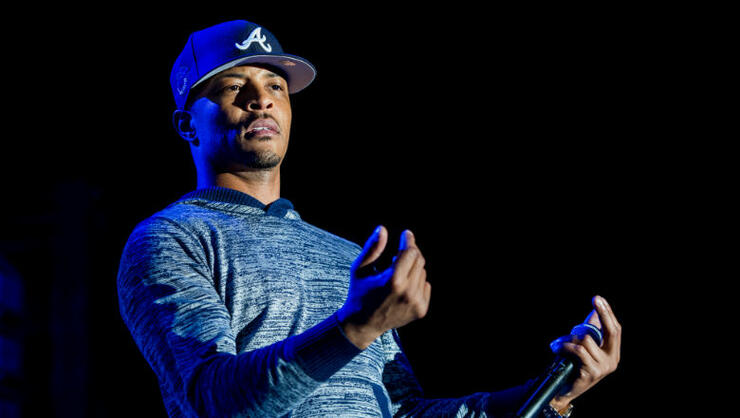 T.I. was ready to fight the security guard who gave him a hard time as he entered his own gated community in Georgia, according to the police report from his Wednesday morning (May 16) arrest.
In the report, which surfaced just hours after the story broke, the security guard claimed that the rapper pulled up to the community around 4 AM. Once he arrived, the guard asked who he was and where he was going, to which the rapper responded, "Harris, hook me up." Unfortunately, the guard didn't recognize Tip, so he didn't let him pass through and that's when things escalated.
As per the guard, the rapper started throwing out profanities and yelled at him to open the gate. After some persistence, the guard finally let him through, but that's when the threats began. "Come outside so we can deal with this man to man. Let go in the street," he reportedly said. Once the guard started feeling threatened, he called the authorities. T.I.'s yelling could be heard in the background of the call, according to the report. Once the Henry County PD arrived at the scene, T.I. was arrested for simple assault, disorderly conduct, and public drunkenness.
After the news broke, Tip reportedly took to his Instagram Story to clear the air on the debacle. "I guess y'all have been hearing all the nonsense you know what I'm saying, I'm looking like yesterday, man, I was inconvenienced and arrested, you know what I'm saying," he said in now-deleted posts. "With all we been through this is small potatoes, man. I'm here, present at school. Ain't been to sleep, but guess what, God is good all the time. Alright, so I'm going to get back in here man and continue to kick it with my 10-year-old, you know what I'm saying, and my 2-year-old, and we're going to let God deal with the craziness, you know what I'm saying."
T.I.'s attorney, Steve Sadow, also made a statement to local news station WSB-TV, stating, "Tip was wrongfully arrested early this morning when he attempted to gain entrance into his gated community - where his wife 'Tiny' and his family reside. The guard was sound asleep when Tip arrived at the guardhouse. It took Tip some time to wake up the sleeping guard. Tip clearly identified himself and sought entry. The guard refused entry."
Ch2 was the 1st to confirm the breaking news about TI - Clifford Harris - arrested this morning. I just got my hands on the mugshot. Police charged him w/disorderly conduct & public drunkenness after an argument w/gate guard at his country club residence pic.twitter.com/hDIxrd0KcX

— Tyisha Fernandes (@TyishaWSB) May 16, 2018
Chat About T.I. Was Looking For A Fight Before His Arrest, According To Police Report