Tom Morello Shares Heartfelt Poem He Wrote the Day Chris Cornell Died
By Andrew Magnotta
May 18, 2018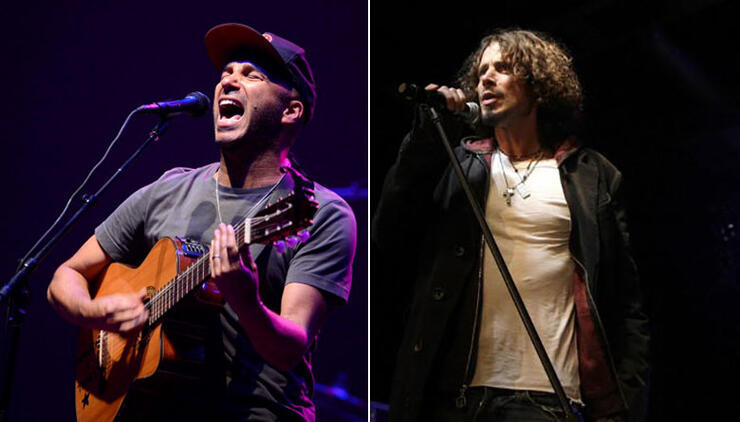 News of Chris Cornell's death last year sent shockwaves throughout the music industry. Fans, fellow artists and former bandmates of the singer were quick to pay tribute to the one they revered as "The Voice."
Prophets of Rage guitarist Tom Morello was a bandmate of Cornell's for six years in Audioslave. Though the band went on hiatus in 2007 for Cornell to further explore his solo career and eventually reunite Soundgarden, Morello and Cornell remained close friends.
Morello shared the words he wrote on May 18, 2017, for his longtime friend via Instagram.
You're a prince, you're a snare, you're a shadow

You're twilight and star burn and shade

You're a sage, you're a wound shared, you're masked

You're a pillar of smoke, you're a platinum heart

You're a brush fire, you're caged, you're free

Your vision pierces, you do not seeYou are pieces strewn on the hillside

You're open armed, you're armed, you're true

You're a revealer of visions, you're the passenger, you're a never fading scar

You're twilight and star burn and shade

You're the secret veiled, you're the secret revealed, you're surrounded no more

You're not there, now you're always here

Youre a handsome groom, a loving father, a haunted stairwell

You're the clear bell ringing, the mountains echo your song

Maybe no one has ever known you

You are twilight and star burn and shade
"That made me cry," wrote one user in the comments of the post. Many other fans thanked Morello, who has paid tribute to Cornell several times over the past year.
In September, Morello revealed that there's great unreleased Audioslave music he and his bandmates wanted to release at some point. He misses collaborating with Cornell, who was such a unique talent.
"He had a very wonderful and unorthodox songwriting talent," Morello said last September. "It was sort of part-Beatles, part-Black Sabbath, but he had this internal non-4/4 time signature clock in him that was really interesting, and it's in some of those Audioslave songs where he would contribute chord progressions."
Thumbnail Photos: Getty Images
Chat About Tom Morello Shares Heartfelt Poem He Wrote the Day Chris Cornell Died