Dave Grohl Says He Can't Enjoy Listening to Nirvana
By Andrew Magnotta
May 22, 2018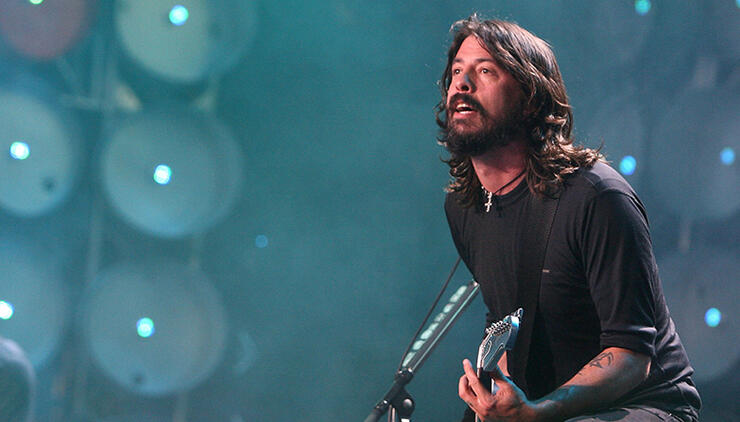 For everything Nirvana means to its fans and for all the emotions people have wrapped up in the band's music, it means that much more to Dave Grohl.
If a song has ever taken you back to a certain place and time, you can empathize with Grohl when he says he never listens to Nirvana by choice.
Grohl, who joined Nirvana as a drummer shortly before the band's ground-shaking Nevermind album, says that even close to 25 years after it all fell apart with the death of frontman Kurt Cobain, he still can't enjoy the band's music.
"Nirvana, for me, was a personal revolution, I was 21," Grohl told GQ UK during a recent interview. "You remember being 21? You think you know it all. But you don't, I thought I knew everything. And being in Nirvana showed me how little I really knew. They were some of the greatest highs of my life, but also, of course, one of the biggest lows. Those experiences became a footing or a foundation on how to survive."
For Grohl, Nirvana was like a rollercoaster crash. He, along with bassist Krist Novoselic, helped Cobain build the band first into an underground success, then an international phenomenon. Within four years it was all gone.
Grohl says it felt like part of his love of music was lost with Cobain, and it was years before he felt like listening to music at all. Nirvana, in particular, was and still is inescapable.
"When Kurt died, every time the radio came on, it broke my heart," Grohl said. "I don't put Nirvana records on, no. Although they are always on somewhere. I get in the car, they're on. I go into a shop, they're on."
Furthermore, as someone who performed Nirvana music thousands of times, wrote and recorded with the band, Grohl knows that music as well as anyone.
"I remember everything about those records; I remember the shorts I was wearing when we recorded them or that it snowed that day," he added. "Still, I go back and find new meanings to Kurt's lyrics. Not to seem revisionist, but there are times when it hits me. You go, 'Wow, I didn't realize he was feeling that way at the time."
Grohl of course has made an incredible career for himself as frontman of the Foo Fighters, which just finished a North American tour in support of its ninth studio album, Concrete and Gold, which was released last September.
The band has been in the news consistently over the past month or so. Between "KISS Guy," "Little Fonzie," Grohl nearly breaking his leg again and two fans getting married at a recent concert in Dallas, there's no shortage of good will in the Foos camp.
Photo: Getty Images