A Great Big World Comments on Their Own Throwback Photos (VIDEO)
By Nicole Mastrogiannis
May 23, 2018
It's a new era for A Great Big World, the singer/songwriter duo comprised of Ian Axel and Chad King. The guys will be releasing their new self-titled album later this year, and have shared the first taste of the record via their new (and nostalgic) single, "Younger."
"Younger" is the first song that the guys wrote for their new album, and is "all about growing up in the '90s," Chad tells iHeartRadio. Ian adds, "we started thinking about all of our memories. And so pretty much every line in the song is something that happened to one of us."
The nostalgia that A Great Big World packs into the song is also represented in the cover art, which shows the guys play Super Nintendo (fun fact: Ian still has his system and just found all the games), as well as the lyric video. The visual shows an old school video game version of Chad and Ian, a la Super Mario style and other throwback games.
As for the rest of A Great Big World's third studio album, which follows 2015's When the Morning Comes, Chad and Ian describe the record as "authentic" and that it "sounds like the most us we've ever sounded." Ian explains, "We're getting back to our roots. We didn't forget why we do music, but we're kind of just getting back to why we write music and making the music that we want to make, with our friends, without outside opinions and outside noise. We kind of just shut everyone out for this record process and made the stuff that we wanted to make. We took risks and we produced it with our band."
Chad adds, "We created our own little bubble that no one was really allowed to enter into. I remember going to LA and visiting friends, and having some of the music. And they were playing me some of their music. And I really wanted to share ours, but I couldn't. I didn't feel right. It was like, let's just keep this between us for now until it's ready. Kind of like an incubation. So that's where we're at, and now we have an album."
Before A Great Big World shared the album's lead single "Younger" with fans, the guys did an excellent job of teasing the song with some very nostalgic photos and videos from when they were both ... well ... "Younger." The guys took a look back on some of these great throwbacks, along with some TV shows they grew up watching in the '90s, and told us the stories behind them.
Ian and Chad's Middle Yearbook Photos
Chad: "Oh man. So this is very embarrassing. But it was a moment where it's like, look, Chad. You can accept it. You can just put it out to the world."
Ian: "It's not that embarrassing.
Chad: "It was for me. It was like I hated this time in my life and I was like, I'd rather forget it than ever remember it. And so it's like, okay let's put it out there for the whole world to see and remember forever. What was I doing with that hair? Why did I decide ... Like, I thought that was cool to put my hair that way."
10-Year-Old Chad as Pinocchio
Chad: "Aw. Yeah. I don't even know what to say about this one. That's me as Pinocchio. I was ten years old. I used to do a bunch of community theater. And they put on a Pinocchio show, and I just remember wearing this nose. It was the longest nose and it was very hard to perform in, because it was this nose out to here that was wobbling."
Little Ian as Little Dracula
Ian: "I had a piano teacher growing up, and we did all these piano recitals. Like classical, kid songs, whatever. But, I had a little Casio keyboard that I was writing songs on, and I had this church organ with a beat to it, and I wrote what I called, 'The Monster Song.' And, for my piano recital, I dressed up ... for some reason my parents said yes. I mean, thank you mom and dad because this was ... I'm really proud of this moment. I dressed up as Dracula, and I went out there with a cape, and I played, 'The Monster Song.'"
Chad: "You even bow at the end as well. And, like, the cape kind of flows. Like, it's this flowing cape as he leaves. It was beautiful."
Ian: "You can learn a lot about me from this. This is pretty much my childhood."
High School Marching Band Ian
Ian: "So, this is me freshman year of high school in marching band. I played the trumpet. I was in marching band for two years, and then I got kicked out. Because I was just like, I had my group of friends and we kind of goofed around a little bit. But, I don't know. I shouldn't have been kicked out. But anyway, when I was kicked out of the band, my band teacher asked me back the next year."
Chad: "We mentioned that in 'Younger.'"
*FYI: The lyric in "Younger" the guys are referring to is "Showing up late and getting kicked out of bands?/ Poor Mr. Kafer never could understand." Mr. Kafer was Ian's band teacher.
SNICK and Clarissa Explains It All
Chad: "It's so easy to go overboard with this stuff because it's like, I remember this, I remember that. I remember that. But, SNICK was huge every Saturday night. I don't know if kids have that these days."
Ian: "No, they don't. Every Saturday night on Nickelodeon there were two hours of just your favorite shows. And you would look forward to it all week. And it started at eight, right? Eight to ten? You stayed up later that night."
Chad: "And it ended with Are You Afraid of the Dark? That was awesome. And then, that's right in line with, like, TGIF used to do the same kind of thing every Friday. You'd be like 8PM, TGIF.
Ian: "But we put this photo up, and you know what, it didn't get as many likes as the other stuff. So, it's like, the people that follow us don't know what SNICK is, and we just got really sad about it."
Ian: "Hey, producers of Double Dare. We heard that Double Dare's coming back to Nickelodeon, and we just want to, submit our resume to be contestants on the show. Because we're really competitive. We're really fun. It was a dream of ours, and still is, to get slimed. And, we're just really great people and we would love to be on the show."
Chad: "But also, we love the show. We love this show. You're not gonna find this passion anywhere else."
Ian: "Please, make our childhood dreams a reality."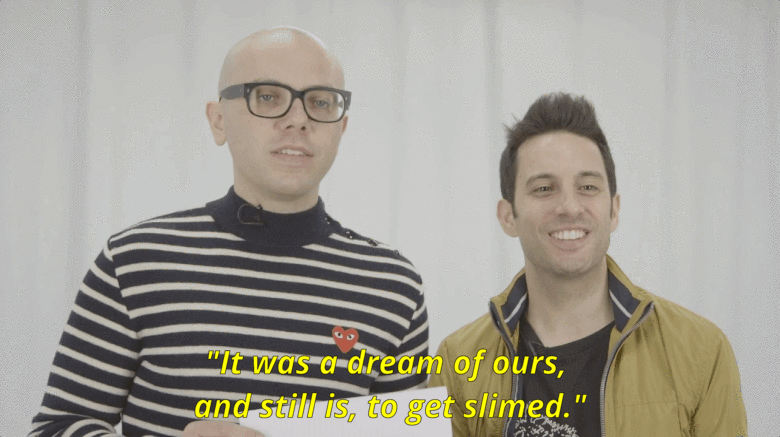 Chat About A Great Big World Comments on Their Own Throwback Photos (VIDEO)