Here's The Royal Wedding Photo Some Are Calling 'Princess Diana's View'
By Hayden Brooks
May 23, 2018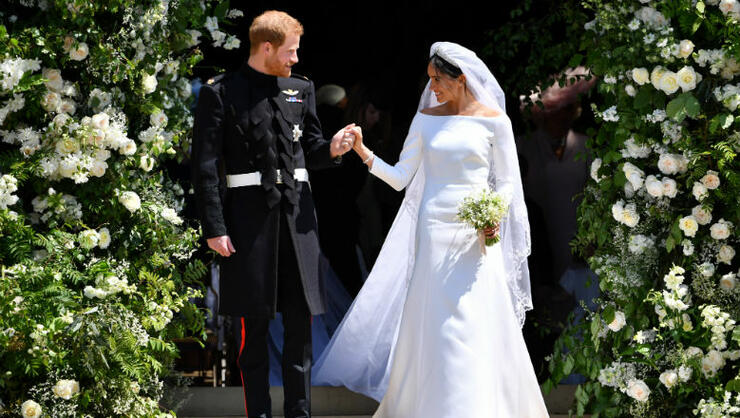 Hundreds of photos have surfaced from Prince Harry and Meghan Markle's royal wedding on Saturday (May 19), but there's one that has stood out in particular and it's a frame that some have referred to as "Princess Diana's view."
In the shot, viewers catch a glimpse of the couple from above as they hold hands and look towards the crowd from their horse-drawn carriage. While many fans have made reference to the gorgeous shot's aerial view, others have noticed that their bodies form the slight shape of a heart. Either way, the shot was one that Press Association photographer Yui Mok took unexpectedly, telling Cosmopolitan that it was one of those opportunities that come once in a lifetime if you're lucky.
"When the carriage was almost upon me, I shot all I could with the long lens, and quickly switched to my other camera with no time to spare, pushing the edge of the lens tight against the edge of the metal grille," he said of the moment, where he was positioned on the roof of George IV Gateway of Windsor Castle. "The carriage took less than a second to pass underneath me, and in that time I had managed to shoot five frames, one of which would end up as one of the most memorable photos of the whole wedding. Of course, had the carriage driven a foot or so either side of my viewpoint, there wouldn't have been a picture."
As for why the photo is resonating with so many people, Mok said that it's likely due to the unusual angle. "[It's] one so different from the many thousands of other pictures taken from that day. Maybe people see this as a more intimate moment, the fact that you can see them holding hands. From this overhead view they remain faceless, but maybe that means people can project whatever emotions they feel onto them, or it adds that little element of mystery," he continued.
"I've also seen people on social media referring to this view as 'Diana's View,' which has since become a hashtag. Clearly, Princess Diana resonates so strongly with so many people, especially on the day of her son's marriage."