Jason Mraz Comments on His Old Throwback Photos (VIDEO)
By Nicole Mastrogiannis
May 23, 2018
Jason Mraz has returned with a brand new single, "Have It All," which follows his 2014 Yes! album. The uplifting song came about after a Buddhist monk had said to him "Tashi delek," which means the song's very first lyrics, "May you have auspiciousness and causes of success." Jason describes his new track as a "musical greeting card." He explains to iHeartRadio:
"It's meant to be shared with anyone you love in your life who might be transitioning into something else, whether they're quitting their job and moving on to bigger and better things, maybe they're giving birth and the song is for their new child. Or maybe they're retiring, and they're finally gonna go be a farmer. Whatever it is, I want you to have it all."
Jason is set to hit the road across North America on tour this year, and as he puts it, "We are gonna hit the road with this musical message all summer long, and sing songs of happiness and optimism and positivity and love and friendship and connection all around North America in 2018. So, I'll be on the road with all my friends singing 'Have It All,' and all of our favorite Jason Mraz songs."
Over the last 15+ years, Jason has released some incredible hits, including 2002's "The Remedy," 2008's "I'm Yours" and 2012's "I Won't Give Up" among others. In celebration of his new music and upcoming tour we had Jason take a walk down memory lane by showing him photos from over the course of his career, and from his own Instagram. See what he had to say about each photo.
"The Remedy" Single Cover Art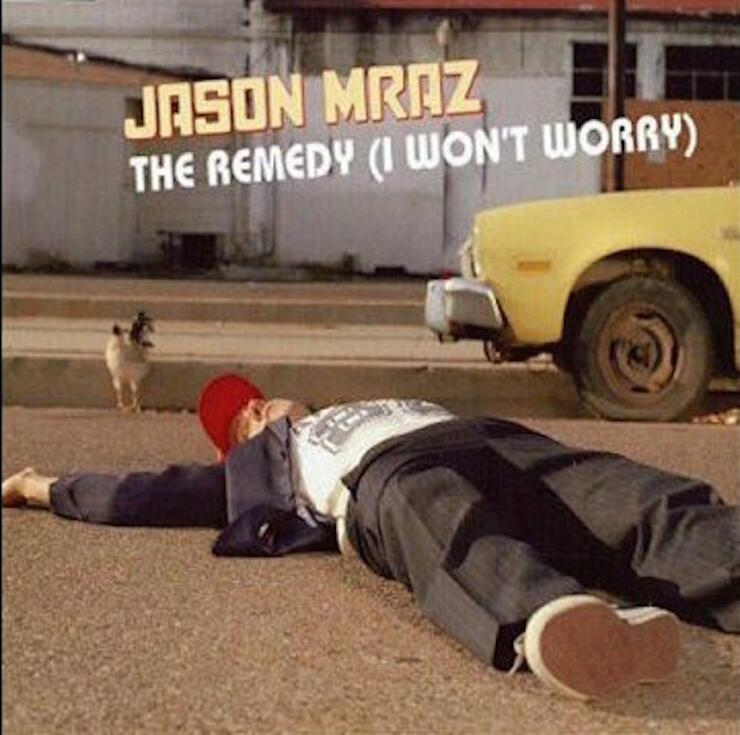 "This is a photo from "The Remedy" single cover, or it's, and/or it's inside the, the booklet of the "Waiting For My Rocket To Come" album. It's one of the alternate photos taken from the album shoot. It best represents what my life was like back then. This would be 2002 when I was first introduced to the competitive nature of the industry and the go, go, go hustle and all the demands that come from putting music out. But I was having a good time back then, and I had a little chicken friend that I brought with me throughout that entire album process. It was a little rooster, and I did that because I'm not a morning person, but the rooster is, right? I wanted to wake the world up with a song, much like the rooster. And, so I brought him with me as my little spirit animal through that whole process. This is a taxidermy rooster. Many years ago, I did get a rooster. His name is Handsome, and he's a good singer. And he's actually, you can hear him on my song 'Back to the Earth' on our Yes album."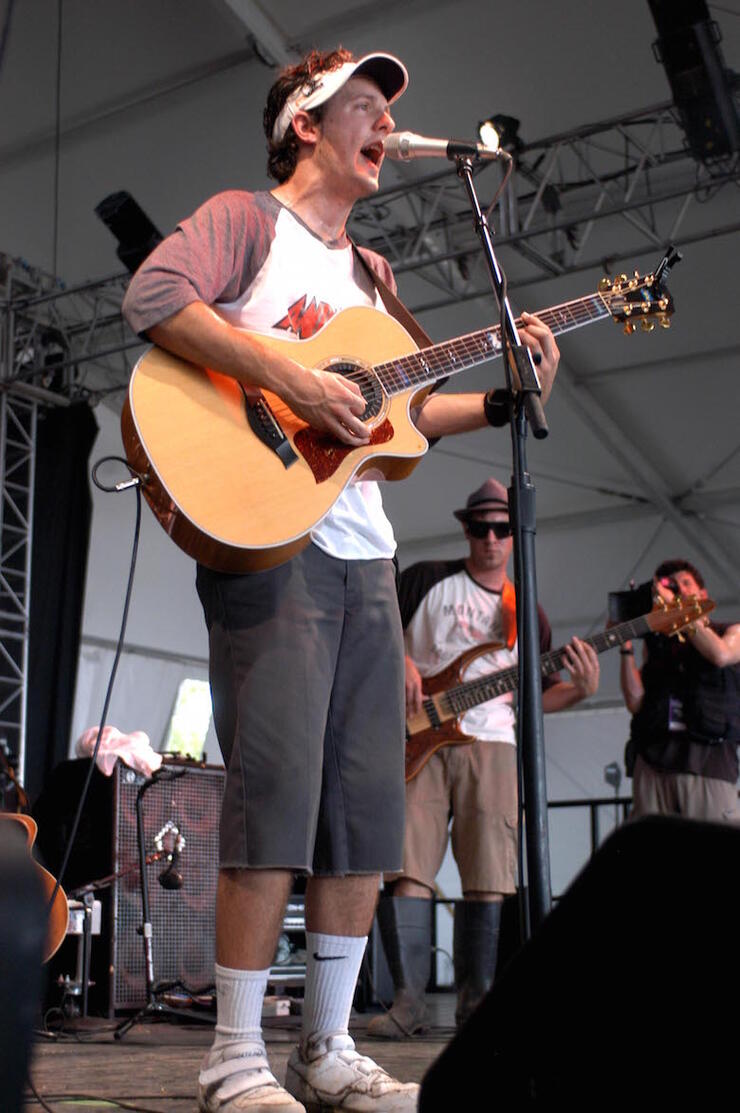 "This was maybe the second Bonnaroo, and we were given a heads up that it's gonna be very muddy. So I went to, wherever, I don't know. I remember you can get shoes, knowing they were gonna get muddy. I got some fresh white socks. And I thought it would be funny to wear clean, fresh whites at a place where everybody was gonna be muddy. So I found the visor and the white socks, the pants, the homemade shorts, those I probably wore for years. Those are like Dickies pants. This is one of my first tours, and a lot of my face from that era shows, 'What am I doing here?' And, 'I can't wait for this to be over.' That's most of my career, actually. Anytime I see myself performing, I'm like, 'Oh, yeah. I remember that day. I couldn't wait for it to be over.' Not because I don't enjoy it, but when you play a concert, there's like a thousand people staring at you, and there's always a part of your brain that's like, 'How did I get myself into this?' And this is a really good example of that. You can see my face. I'm singing, but my eyes and my brain are saying, 'Get me the hell out of here. Please.' Especially a festival crowd."
Birthday Cake at Hyde Park 2007 with Andrew W.K. and Run D.M.C.'s Darryl McDaniels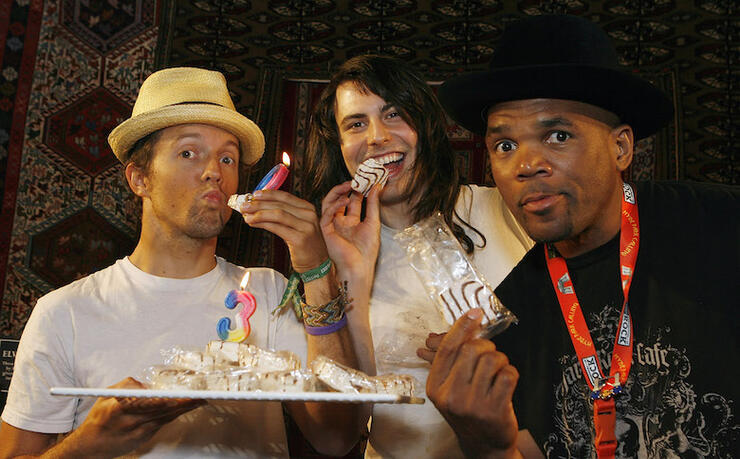 "This is Andrew W.K. and Darryl [McDaniels]. And some kind of Little Debbie snacks, and somebody's turning three years old. I have no idea what's going on in this picture, but this is sort of a typical green room at a festival where anybody could be in there. And clearly, I am in there with Andrew W.K. and Run-D.M.C., an unlikely mashup. This looks like a sitcom waiting to happen right here, and we're celebrating our third season going into it."
Songwriters Hall of Fame with Bon Jovi and Rob Thomas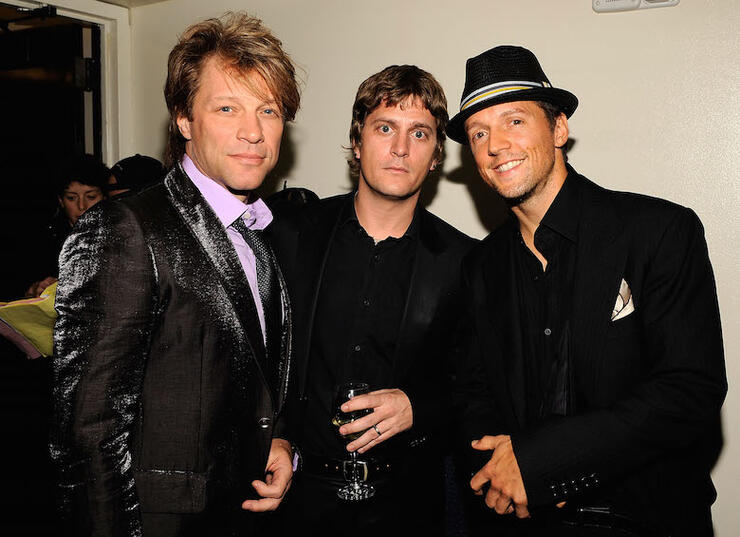 "So, this is 2009 when I won the Hal David Starlight Award, which is a Songwriters Hall of Fame award from writers who are too young to be inducted into the Hall of Fame. You have to have at least 20 years of releasing music to be eligible. I still don't have that eligibility. But I was honored to be honored. Rob Thomas honored me, because he also was an award winner of that same niche. Jon Bon Jovi was being inducted that night. The Songwriters hall of Fame is cool because it's songwriters acknowledging each other and talking about the mysticism and beauty of songwriting, when really it's three guys who never wanted to have jobs. Basically, we're bums, but we figured out, if we make some stuff up and entertain you, then maybe we can pay our bills with that. And these guys do it really well. And it's bigger than that, because this guy, Bon Jovi, he writes songs that make stadiums wet their pants. So here we are hanging out with, with cool people."
The Blossoming Avocado Farmer
"Wow. Pictures found under the fridge. Polaroid by the enamorable [Cassia Meder 00:07:05]. This is a picture within a picture because I bought an old school camera, film camera from Cass Meder, and when she brought it over, she was showing me how to use it. So she took my picture out in the grove, so I grabbed some avocados, made a lewd gesture. She took the picture. And then, I think the picture was hanging on our fridge for a while. It fell off, it went under the fridge. When I pulled it out years later, I was cleaning, I found the picture. And by then, Instagram had been invented, so I snapped a picture of the picture and posted on Instagram. That's the technical background. This picture still hangs on our family wall. It's one of my wife's favorite pictures. And our avocados have gotten bigger since then."
That Time he Googled Himself
"Yes. I still do this from time to time. Type your name in the search menu with the word "is" after it, and see what the world, and/or the algorithms of Google think of you. Uh, back in 2013, uh, I'm apparently a jerk. I'm apparently a douche bag, a Christian, a douche and occasionally, 20% of the time, I'm awesome. Thanks, Google.
Has it changed since then?
"Has it changed? Should we try it real quick? Should we just see what happens? Now we're in 2018, for those of you playing along at home. Let me first just go to a generic Google menu. Okay, there it is. Google Search. We're gonna write Jason Derulo, born [Mimoa Aldean 00:09:09] Bateman. I'm definitely not in the top five. Mraz songs, Waitress, tour, wife. Alright, is ... from or is married, is vegan, is yours, is from. Is a ... Jason Mraz is a ... you know what, it's all good. Jason Mraz, 'Love is a Four Letter Word,' Jason Mraz, 'Love is a Funny Thing,' Jason Mraz, 'Love,' Jason Mraz, 'Life is Wonderful.' Jason Mraz, 'A Beautiful Mess.' Things have only gotten more positive in 2018 versus jerk, douche bag, Christian, douche in 2013. So, I'd like to either than God, or I'd like to thank my agent for helping me clear that up.
"I'm Yours" Hand Drawn Cover Art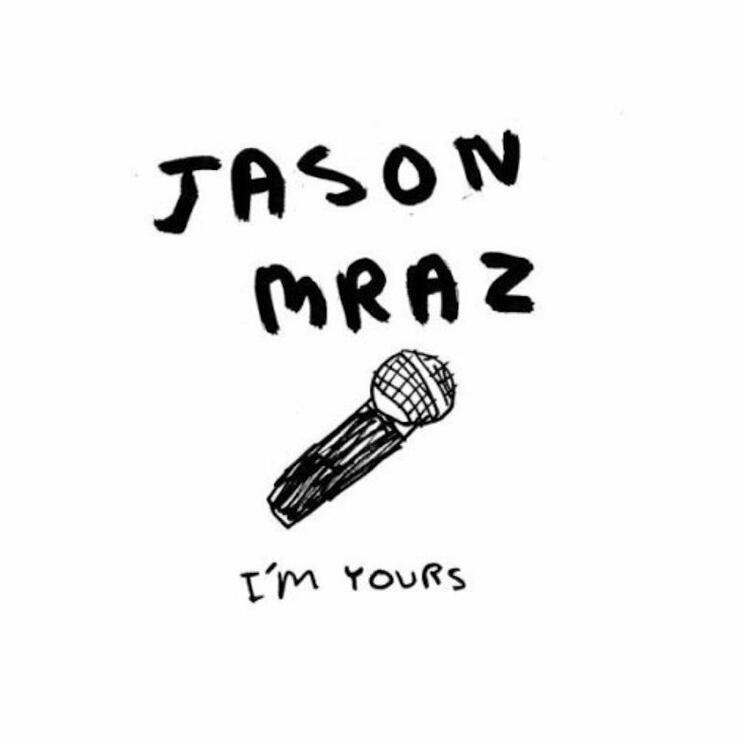 "It is hand drawn. I didn't hand draw it. My favorite artist named David Shrigley hand drew everything from this album. Um, he is a fine artist, but it looks like he doodled it while on the telephone. But you can find his work in museums all around the world, David Shrigley. And I reached out to him, I said, hey ... 'Cause he actually had, uh, the phrase, we sing and we dance and we steal things, in one of his work pieces. I said, "I'd really love to use that as a title." He said, "Sure go for it." And then I wrote him back. I said, "Would you mind drawing a picture of me as well"? He said, "Well, it's not gonna be very good." I said, "Perfect." And he submitted many, many drawings, and then the art department at Atlantic sort of took his lead and his style, and of course added the microphone and other little icons. But uh, I was very, very blessed to get to know him through that process. And, and uh, be connected to the child like nature of song writing and art in general. The rest of the world just wants us to grow up so fast and wear suits. But art reminds us that we're we can be children the rest of our lives if we want to.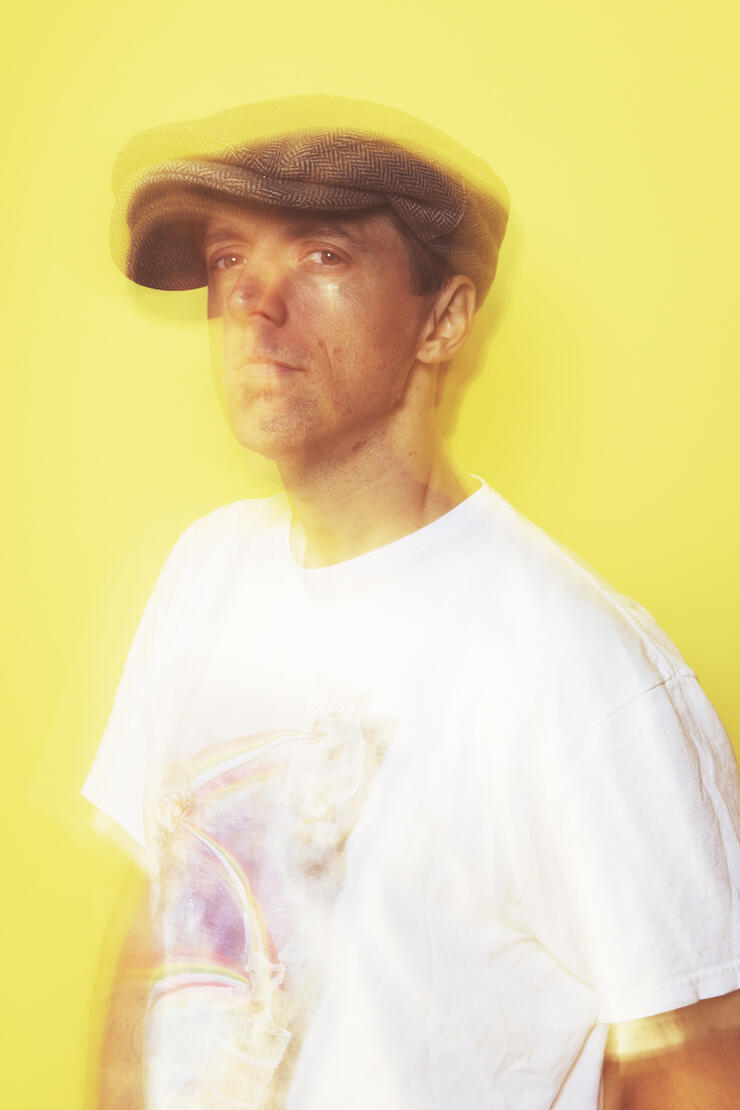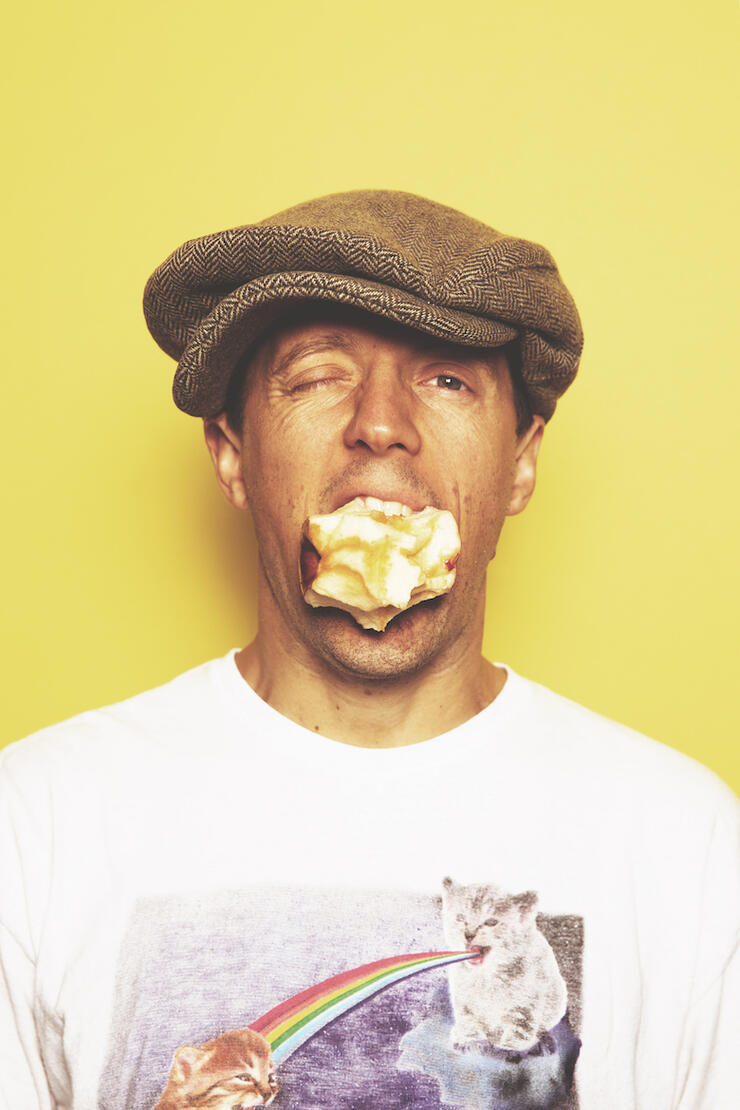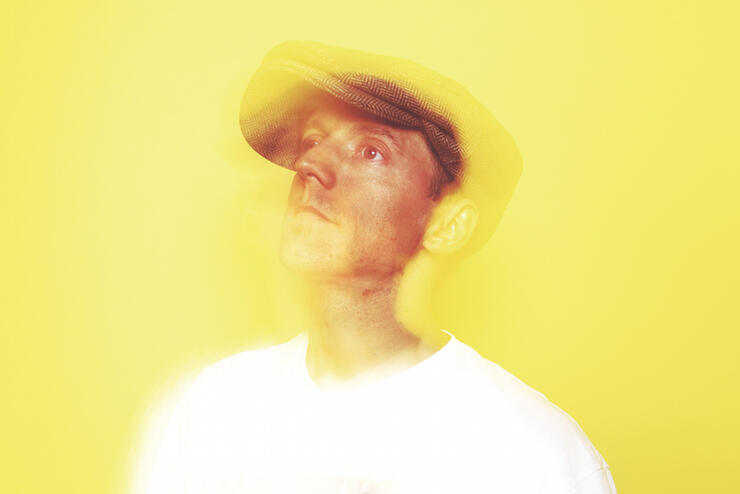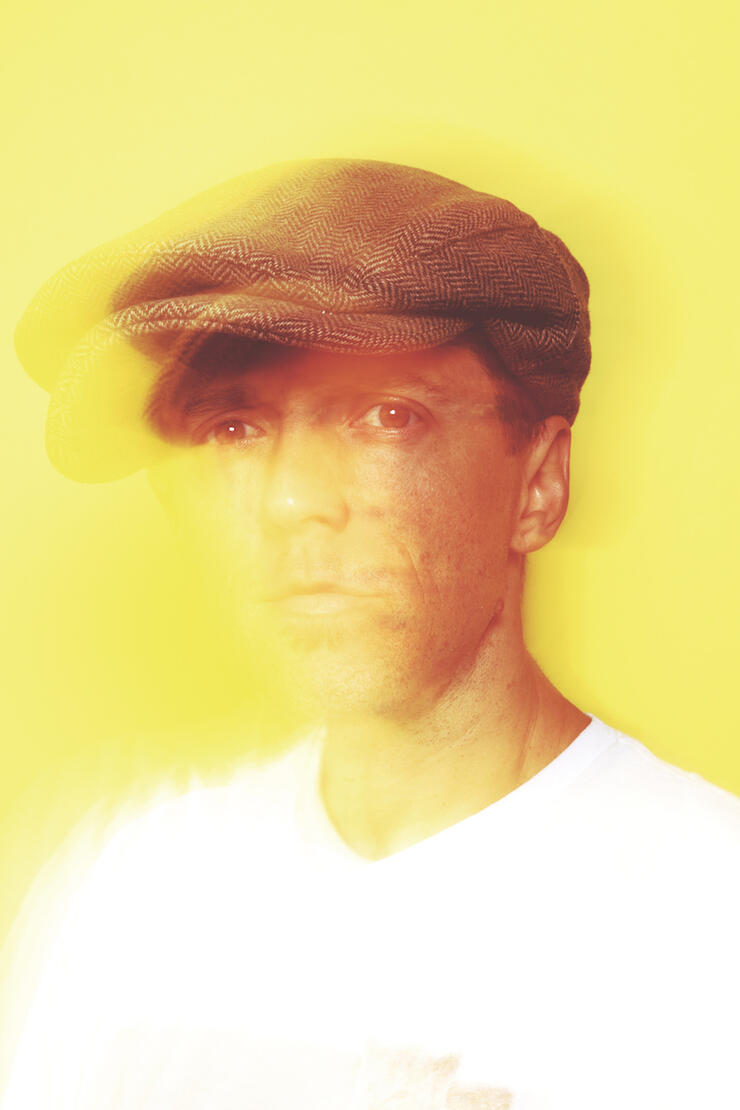 Chat About Jason Mraz Comments on His Old Throwback Photos (VIDEO)