Vampire Weekend Returns To Instagram, But What Does It Mean?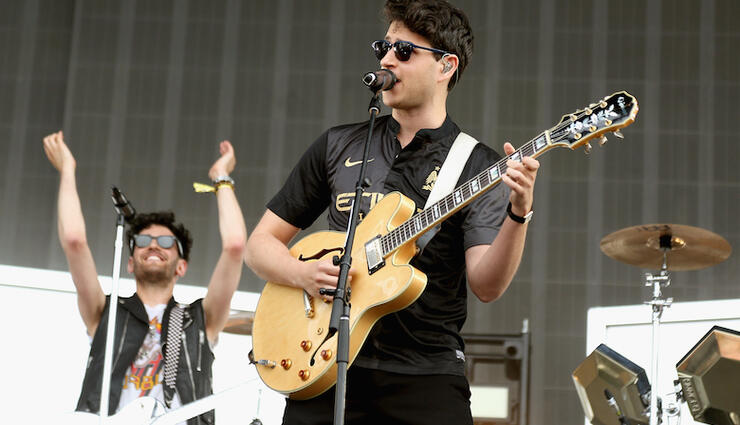 After five years of lying dormant, it looks as though Vampire Weekend's Instagram account is back up and running.
On Friday (May 25), the band posted some cryptic photos of what appear to be a broken TV, a fleece zip-up jacket, and an "Ojai" sticker on the rear window of a car. None of the images have captions; however, singer Ezra took to his personal account to encourage fans to follow the band on the social media platform.
In addition to these photos, the band also uploaded a handful of videos to its Instagram story. In the clips you see someone playing the "Oxford Comma" beat on the drums, the band's original guitar tech butchering the riff of "Cape Cod Kwassa Kwassa," someone playing the bass riff of "Diane Young" with Koenig's vocals coming in at the end and the "bucket hat reveal," where a hand yanks an *NSYNC hat off a pile of paper strips with song titles typed on them. Check out the photos below.
Vampire Weekend recently announced its first shows in four years, gearing up to play Fuji Rock Festival in Naeba, Japan in July, Lollapalooza in Chicago in August and End of the Road Festival in Lamer Tree Gardens, UK at the end of August. These will be the first dates played without founding member Rostam Batmanglij, after he left the group in 2016 to pursue solo endeavors.
Aside from the festival dates, the band also revamped its website, which currently just says "VAMPIRE WEEKEND" in black block letters on a white, static background. This could be a hint that new music may be coming soon. In September of 2017, Koenig revealed via Twitter that the new album is 80% done, lamenting that the last 20% is always the hardest. He also hinted on Instagram that the new album will be titled Mitsubishi Macchiato.
Chat About Vampire Weekend Returns To Instagram, But What Does It Mean?