Sabrina Carpenter Performs New Single "Almost Love" at Wango Tango
By Sierra Marquina
June 2, 2018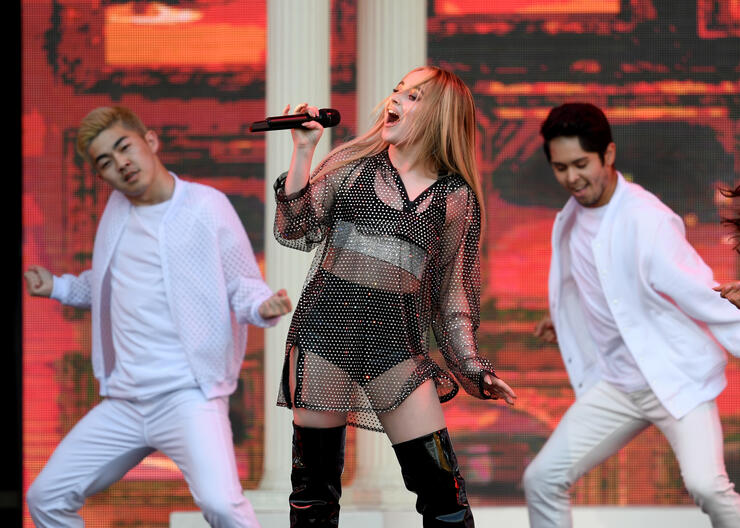 Sabrina Carpenter opened iHeartRadio's 2018 Wango Tango and performed for the first time her highly anticipated new single "Almost Love" at LA's brand new Banc of California Stadium.
The songstress, 19, worked the stage, which featured Michelangelo'esque Renaissance sculptures and Roman columns, in a sheer ensemble and thigh-high black patent boots.
"Can you feel the tensions rising? / Now you're getting so close," Carpenter sings in the sassy new StarGate produced track. "Now you're getting so close / Almost love, it's almost love / ... I want you like a midnight owl wants a view / Yeah I want you like kisses that are overdue / But what's the fun in it?"
Carpenter also performed at the Wango Tango Village prior to hitting the main stage at the star-studded show, which also features performances from Ariana Grande, Shawn Mendes, Meghan Trainor, 5 Seconds of Summer, NF, Miguel, Janelle Monáe and Marshmello with a special guest performance by Logic, and the Backstreet Boys.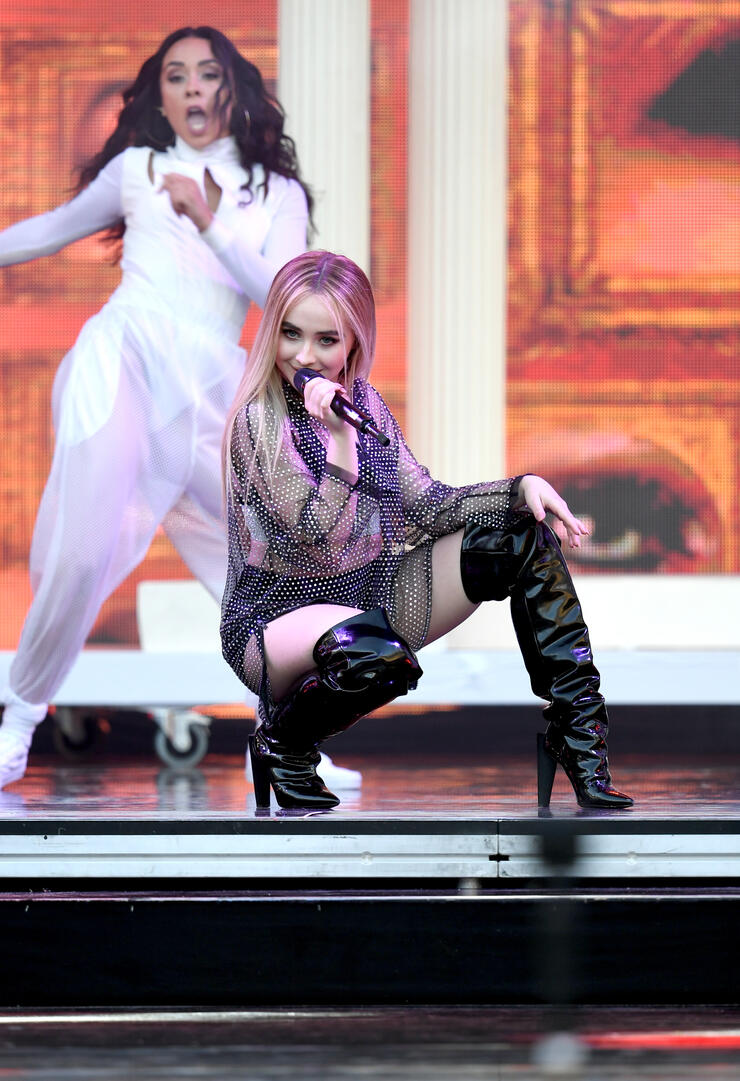 "Almost Love" is the first single off the former Disney star's forthcoming third studio album. During an interview with Ryan Seacrest's On Air With Ryan Seacrest on May 22 Carpenter shared that her new music showcases a newfound confidence.
"I hear everything differently now," Carpenter said of her creative process two years in to writing her third studio album. "It's just you really do grow over time without even paying attention to it. … The difference with this album than my previous album before was I just kind of went into not thinking about it. Because I was touring and I felt so much more confident in myself, and what I was doing, and my abilities, and knowing I was growing, and I brought that right into the studio so I didn't have to think about anything and once you stop thinking you just go 'Oh!' … you take control in a different way."
Hosted by Ryan Seacrest, iHeartRadio's Wango Tango is very first concert held at the all-new Banc of California Stadium in Los Angeles. This year's Wango Tango features a lineup of the biggest artists in pop music. And the best part? Even if you can't make it, you can watch it all go down LIVE!
Fans can watch this year's Wango Tango via a live stream exclusively on AT&T's official Twitter account on June 2nd at 7pm PT/10pm ET.
You can also re-live the amazing summer kickoff by tuning into an 90-minute television special, exclusively on Freeform, on Sunday, June 3rd at 8 p.m. ET/PT.
Chat About Sabrina Carpenter Performs New Single "Almost Love" at Wango Tango