Dennis DeYoung Wonders About "One Last Reunion Tour" With Styx
By Andrew Magnotta
June 4, 2018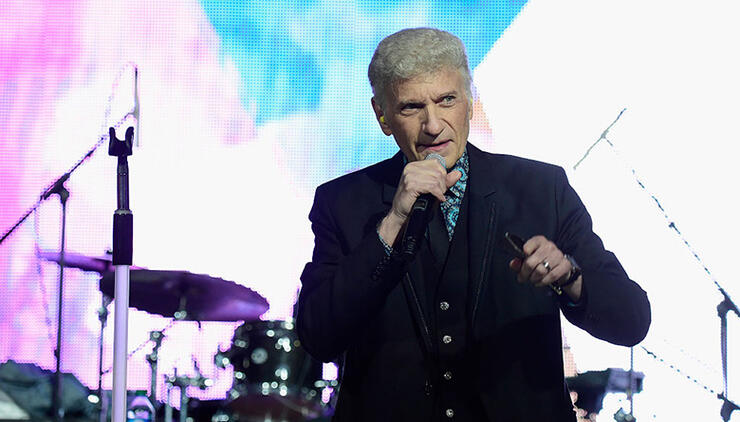 Former Styx singer Dennis DeYoung has addressed the band's inclusion of "Mr. Roboto" in the encore of its set last Wednesday some 35 years since the band last performed the song in full.
DeYoung expressed mixed feelings about the surprise performance in a lengthy post published Sunday to his official Facebook page. The singer offered a stream-of-consciousness response to the flood of questions that surely rushed into his inbox as video of the performance spread.
"I imagine it will become obvious to them when they perform it… what they have been missing," DeYoung wrote. "It's something I have known for 18 years. And that is…people will go bananas when it's played 'cause they like it; it's fun. It's that simple..."
While "Mr. Roboto" is one of Styx's best-known songs, it's also believed to have played a large role in the band's 1983 breakup, following its Kilroy Was Here tour.
But DeYoung noted that "Mr. Roboto" was played during the "most prestigious" part of the band's show last week: the first song of the encore.
"Wow, that's a reversal of fortune from derision and ignominy to the encore. Good for ['Mr. Roboto']," DeYoung added, personifying the song. "...I wish I knew his secret...secret, secret. Perhaps he'll share it with me and one last reunion tour will happen."
The singer briefly pivoted from I-told-you-so to wondering what the future holds for his involvement with the band he departed in 2000.
"By playing this song after all the vitriol, it's an admission, but of what?" he asked. "Kids, you tell me."
DeYoung will be playing the music of Styx all summer on tour. Get his tour dates here.
Styx is on tour all summer with Tesla and Joan Jett & The Blackhearts. Get those dates here.
Why Styx has largely removed "Mr. Roboto" from its live sets is unclear. The album that contained the song, Kilroy Was Here, and the ensuing tour was a famously contentious one among the band members. Guitarist Tommy Shaw supposedly disliked the theatrics of the band's live shows on the tour in support of Kilroy and left the band at the end of the trek in 1983. By 1984, Styx had completely disbanded.
Current Styx vocalist/keyboardist Lawrence Gowan said in a 2016 radio interview that, since "Mr. Roboto," predates his tenure in the band (since 2000), he wasn't sure why the band never included it in the set list.
Gowan said he believed his bandmates have been more concerned with pushing the rock side of the band's sound than "Mr. Roboto," which represented a significant departure.
Photo: Getty Images
Chat About Dennis DeYoung Wonders About "One Last Reunion Tour" With Styx