Roger Daltrey Says Pete Townshend Could Still Do His 'Greatest' Work
By Andrew Magnotta
June 4, 2018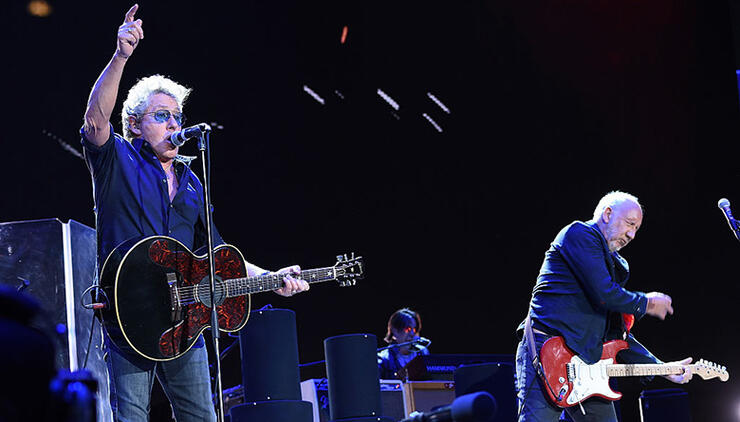 The Who frontman Roger Daltrey says his longtime bandmate, guitarist Pete Townshend, is capable of writing the best music of his life.
Daltrey says it all depends on whether Townshend can find the inspiration he needs. Daltrey is about to go on tour performing The Who's classic rock opera, Tommy, and promoting his latest solo album, As Long As I Have You.
The singer insists The Who hasn't gone away while Townshend takes the year off and Daltrey strikes out on his own.
"We will be doing something in the very near future, that's for sure," Daltrey told Billboard. "Y'know, I've always been of the opinion that if Pete really puts his mind to it he could potentially write his greatest work at this age. He's got that kind of brain that would use his life experience and his musical ability to perhaps come up with his greatest compositions, and the group has been playing so well recently I think [Townshend] thinks we have a valid voice in the music business. So who knows? He has all the ability to do it; let's just hope he can be inspired to do it."
Daltrey has repeatedly credited Townshend's compositional talents with rescuing his latest solo album.
The singer says he felt "disillusioned" with most of his demos when he sent them to Townshend, who encouraged him to keep at it.
"Pete called me up and said, 'This is great, Roger, you've got to finish it,'" Daltrey recalled. "And then he offered to play guitar on it, and that was the clincher for me because he's my favorite guitarist, and whenever he plays on a record it's always original. So I decided to finish it, and I'm very pleased with the outcome."
As Long As I Have You was released June 1. It is Daltrey's ninth solo album.
Get all of Daltrey's upcoming tour dates here.
Photo: Getty Images
Chat About Roger Daltrey Says Pete Townshend Could Still Do His 'Greatest' Work