Stone Sour Guitarist Says Band Waited to Accept Ozzy Tour to "Play It Cool"
By Andrew Magnotta
June 5, 2018
Any rock band that gets the call to support Ozzy Osbourne during a tour — let alone The Prince of Darkness' farewell tour — is thrilled to get the opportunity.
But when you're in a rock band, you also have an image to think about, and you've gotta be cool above all else, right?
Stone Sour guitarist Josh Rand tells Big 100 Washington's Bodhi that even though there was never any doubt that the band would take Ozzy's offer, they waited a day to respond, just for effect!
"We were extremely excited," Rand tells Bodhi in an interview from backstage at Rock on the Range 2018. "Like you probably know, everybody submitted for that slot 'cause that's a huge thing. We didn't really put too much thought into it; we were like, 'we probably won't get it anyway.' So to get that call and they offered it to us, we were beyond ecstatic. But then we were like, 'Well, we've got to play it cool, though. Maybe we should wait a day before we answer them back.'"
Rand laughs at the silliness of the whole thing, but it's still what they did!
"Inside we were just — we couldn't believe it," he says. "For me, being a guitar player, the fact that [Zakk Wylde] is back for this is awesome. It's going to be amazing to be able to watch for like a month. I'll be out in the crowd every night."
Rand he's been known to get into the mosh pit to enjoy bands he loves.
"I have no problem getting out there. We did a show with them like two weeks ago and it was awesome. The band sounded unbelievable; Ozzy sounded good."
The guitarist says he does indeed believe that Ozzy is going to be finished with touring by the conclusion of his No More Tours 2 farewell. But Rand doesn't think Ozzy will every truly retire.
"Part of me thinks that with Zakk now back and then spending a lot of time together, I would be shocked if there wasn't at least one or two new songs that come from them doing this tour," he said. "But I can see the touring side [ending]. He's done it for so long, and eventually it does take its toll on you. I think he could still release quality music. At some point you want to leave that legacy. You don't want to be the guy that can't go out and do nothing that you're known for doing. Right now his singing is right there, so I think why not go out on top."
Stone Sour has live dates booked through October. Get all the tour dates here.
Last fall, when Ozzy was asked if he'll ever officially retire from performing, he replied, "Not until they put me in a pine box."
Get more information about Ozzy's No More Tours 2 here.
Photo: Getty Images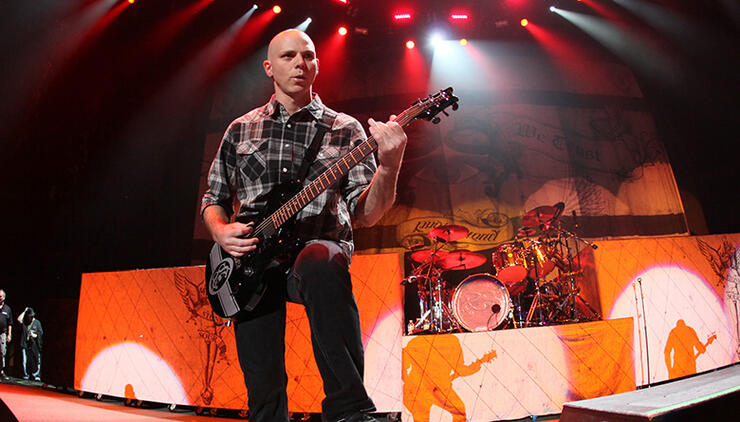 Chat About Stone Sour Guitarist Says Band Waited to Accept Ozzy Tour to "Play It Cool"