Jon Anderson Says Two Bands Touring as YES Is Confusing But Not a Problem
By Andrew Magnotta
June 11, 2018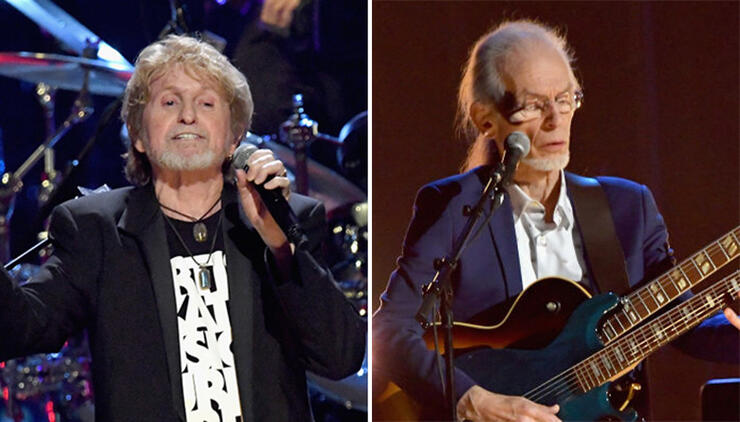 There are no hard feelings between the 10 members of two different versions of Yes touring this year, celebrating the 50th anniversary of the legendary English progressive rock band that fractured (apparently for good) a decade ago.
At least that's according to founding singer Jon Anderson, now of the Yes billed as Yes Featuring ARW (Anderson, Trevor Rabin and Rick Wakeman).
Yes Feat. ARW and the other Yes (which features guitarist Steve Howe and drummer Alan White) have coexisted on tour since the band's 2017 Rock and Roll Hall of Fame induction. Save for a few pointed letters by Anderson's manager aimed at Howe's iteration of the band, there's been little public evidence of acrimony between the two sides.
"They've been really cool about it," Anderson told Metal Express of his counterparts' band. "It's never been a problem."
Anderson says that aside from some confusion (and boy is it confusing!) both Yeses are going about their business keeping the music alive.
He did reiterate his manager's request that the other Yes identify its key members when it is billed i.e. Yes Featuring Howe and White.
"I had a conversation with the other guys and just said to them to let people know who's in [the band]. 'I keep getting phone calls about me playing somewhere, but I'm not in your band, so please tell people who's in the band, so they don't expect to see me,'" Anderson recalled asking Howe and White.
Howe and White celebrating 50 years could be construed as disingenuous, since neither of them were part of the original lineup of the band. Then again, the band didn't really get successful until Howe, White and Wakeman were established members.
Anderson co-founded the band with bassist Chris Squire in 1968. Howe joined in 1970, then Wakeman in '71 and White in '72. Rabin was part of the revamped version of the band in the early '80s, which launched Yes's most commercially successful period.
Yes fired Anderson in 2008 while he was recovering from acute respiratory failure. But as one of two founding band members, Anderson claimed ownership of the name reverted to him after Squire's death in 2015.
"I owned the name and Chris Squire and Alan White owned the name," Anderson said. "[Squire's] wife said that when Chris leaves us, maybe [ARW] could use the name."
It's been over a year of two Yeses and Howe and White don't appear to plan to change their billing anytime soon. Howe has even reportedly contemplated doing another album under the Yes moniker. But it remains to be seen if Anderson changes his tune...or if the band just reunites already!
Anderson says he's focusing on continuing to just enjoy the music and bring it to people who want to hear it.
"I think we just want to play as good as we can and put on a great show," Anderson said. "That was the whole reason for putting Yes together in the first place. We just want to make great music and give the audience an amazing event."
Get all the YES Feat. ARW tour dates here.
Get the other YES tour dates here.
Photo: Getty Images
Chat About Jon Anderson Says Two Bands Touring as YES Is Confusing But Not a Problem