Nuno Bettencourt Says Extreme Is Careful About Playing New Music Live
By Andrew Magnotta
June 12, 2018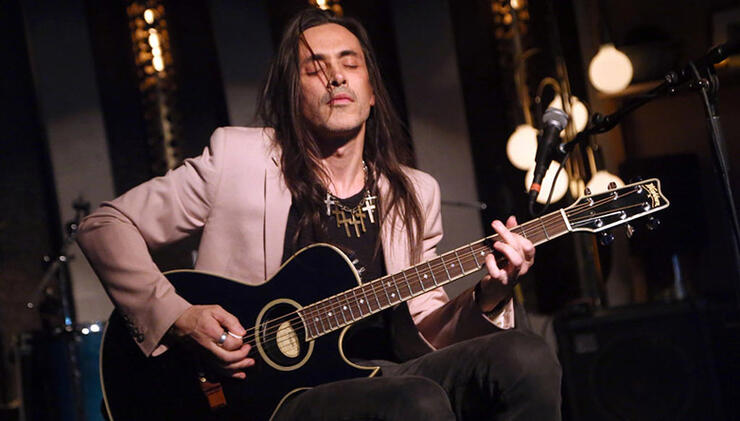 Extreme guitarist Nuno Bettencourt says his band has little to no interest in performing new material during its live shows for one simple reason: its fans want to hear the old stuff!
Bettencourt was asked in a recent interview with the Heavy magazine podcast whether fans can expect new music on the band's next tour. The guitar hero (and former music director for Rihanna) says that's pretty much off the table for now.
Bettencourt joked that the band might show up in a country like Australia that it hasn't played in years and do an entirely new album.
"That'd be one way to piss everybody off pretty well," he said. "It's quite the opposite. We do have some material that we're working on, but the main thing is just look: when you haven't seen [a country] for that long, what do you do? You've got to catch up, right? So you try to give them as much as you can of each album. You give them three or four songs from each album — you take them on that journey and play all the strongest stuff that you think is great that they'd want to hear, that they'd want to experience."
Extreme's last new album was 2008's Saudades de Rock. Bettencourt says the band should have released two or three albums in the last ten years, but it hasn't worked out.
"We're kind of disappointed in ourselves that we haven't released something because we've had so much material. I'm happy to say, now at least, we have a good actual vision right now of what we want to do for this album. We have a good 20 or 25 songs that we're almost wrapped up with. My goal anyway is that by the fall we have a new album out."
But he emphasized that material is has not made it into the band's live sets, especially in a place like Australia, where Extreme hasn't performed in decades.
"Because it's been 20-something years, I think the last thing that anybody wants to hear is new s**t," he deadpanned.
Extreme has just a few tour dates left on its tour. Get the dates here.
Photo: Getty Images
Chat About Nuno Bettencourt Says Extreme Is Careful About Playing New Music Live