Warriors' Jordan Bell Grabs Hennessy From Fan During Championship Parade
By Bill Gallucico
June 12, 2018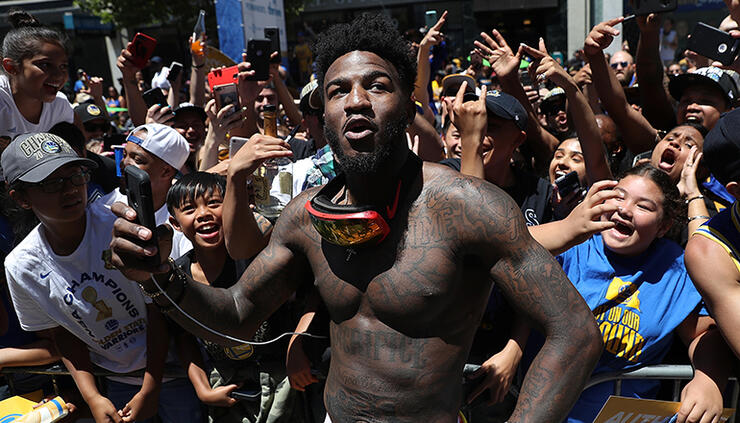 The Golden State Warriors had a great time celebrating with another championship parade after defeating the Cleveland Cavaliers in the NBA finals for the third time in the last four years. The party was on as thousands of fans lined the parade route. Rookie Jordan Bell was having such a great time celebrating that he drank all of his Hennessy.
Bell looked around, unsure what to do about his empty bottle. As he was scanning the crowd he noticed a fan who had brought their own bottle of Hennessy. Bell didn't hesitate and jumped off the bus to look for the fan. When they met, Bell grabbed the bottle and took a few big swigs before handing it back.
Bell wasn't done drinking. A few minutes later he was doing an interview with local reporter Kerith Burke when he abruptly walked away and went back to the fan to grab another drink.
Bell averaged 4.6 points, 3.6 rebounds, 1.8 assists, and one block per game during his first NBA season playing just over 14 minutes off the bench.
Photo: Getty Images
Chat About Warriors' Jordan Bell Grabs Hennessy From Fan During Championship Parade