Jason Bonham Says Led Zeppelin Comparisons "Will Kill" Greta Van Fleet
By Andrew Magnotta
June 15, 2018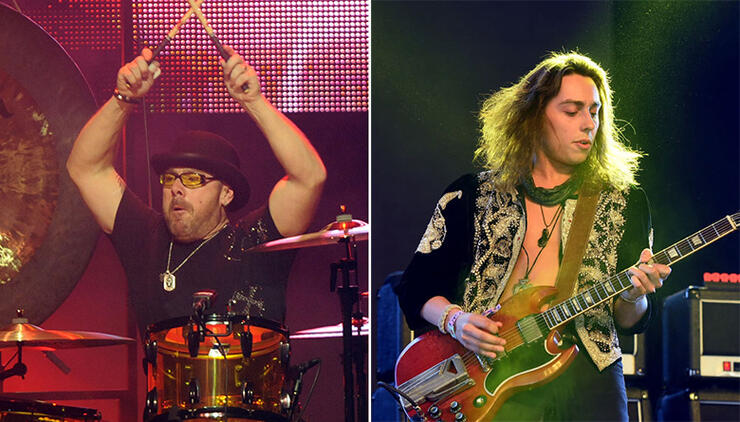 Jason Bonham says he worries that the hype around Greta Van Fleet could ruin them.
The Michigan-based band of brothers has been lauded (and roasted, depending on whom you ask) for appropriating an early-'70s hard rock sound that's heavily inspired by Led Zeppelin.
Bonham totally supports the young band, but he cautions that superlatives like "the next Led Zeppelin" set an impossibly high bar for them. A lot depends on the character of the Greta Van Fleet band members, and their ability to deal with or ignore the pressure surrounding their upcoming debut full-length album.
"Just because [singer Josh Kiszka] sings high and he does his [Robert Plant-like] hand-on-the-hip thing, I just worry the hype that the band are getting...it will ruin them," Bonham said in a recent radio interview.
The drummer explained that he knows as well as anyone what it's like to have a career in the shadow of an all-time great.
"I wish them all the very best, " he continued. "People should just love them for what they are and not try and keep comparing them to Led Zeppelin, because it will kill them in the end. It will sometimes hurt them. Trust me — I know that, because, for me, it takes a hell of a lot when you play drums and your dad is John Bonham. The comparisons can sometimes be the hardest things to get past."
Bonham is on tour this summer with his Jason Bonham's Led Zeppelin Evening show. Get the tour dates here.
GVF bassist Sam Kiszka spoke about the band's sudden success in May. His comments would give Bonham hope for the band's ability to stay down-to-Earth.
Kiszka admitted that it's been a whirlwind for the band members — headlining sold-out venues, doing press regularly and getting calls from Elton John — but they're keeping their heads down and doing the work they need to do, he said.
"We're just rolling with the punches," Kiszka said. "I think we have the right mindset for it and we don't consider ourselves better than anybody else. There's no reason why we should be famous. It's just like… I don't know, it's kind of like weird."
"Yeah, it's a dangerous thing actually for any artist," he continued. "Being too aware of what people think of you is just a big issue. Because then your creative identity that you consider yourself is gone. But everything so far has been absolutely fantastic. Very loving people, great fans."
Greta Van Fleet has been hard at work on a debut full-length. Kizska says the band will release more information soon.
Get all Greta Van Fleet's tour dates here.
Photo: Getty Images
Chat About Jason Bonham Says Led Zeppelin Comparisons "Will Kill" Greta Van Fleet