Deep Purple May Continue After 'Long Goodbye' Tour, Write New Album
By Andrew Magnotta
June 18, 2018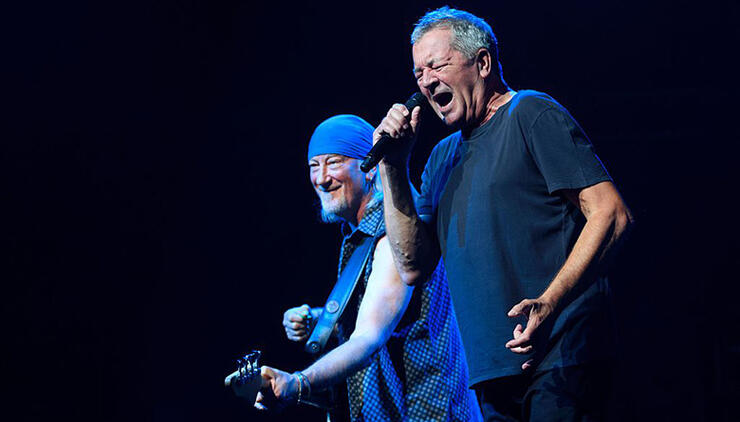 Deep Purple frontman Ian Gillan says his band of 50 years may not be finished at the conclusion of its Long Goodbye Tour this year.
The band has openly considered retirement for a few years. Gillan recently revealed in an interview with KaaosTV that they chose "Long Goodbye" as the name for the tour so they could delay making a decision.
"...[A] couple of years ago, everyone int he band was unwell," Gillan recalled. "We all had health problems, which have been well-documented, and I think somebody...said, 'Do you guys wanna call it a day?"
Gillan continued, saying it's always a challenge to get all the members of Deep Purple on the same page. Long Goodbye was the one thing on which the band could agree — to make a decision after a (potentially) long time.
Deep Purple is about to hit the road again in July; the band will come back to the United States with Judas Priest in August. Gillan says the band members are feeling well and that "everyone's in good shape."
"So I think we're gonna be looking at writing some more material next year and maybe even possibly another album; I don't know," he said.
Longtime Deep Purple guitarist Steve Morse predicted earlier this spring that the band would continue following the tour, though he says he's looking forward to a long break before getting back into music.
"For me, personally, it's a farewell tour," Morse said in an interview with Koztimes.com. "As for the other guys, I think they will still be playing, perhaps in other groups, special projects or as guests. I also plan to stay in music, but not so actively as now."
Morse added that after so many years touring and recording, it's hard for someone to completely retire from music if people still want to hear them play.
"They would rather die onstage than in bed," he joked of his bandmates.
Get the tour dates here.
Photo: Getty Images