Judas Priest Bassist Says "There's No Reason" for the Band to Retire
By Andrew Magnotta
June 21, 2018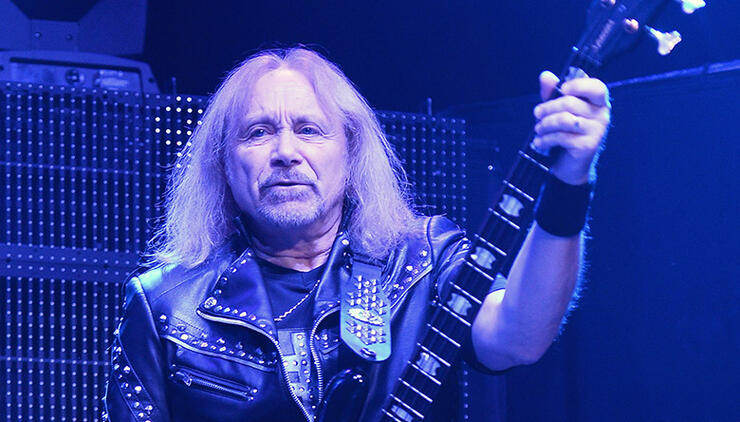 Judas Priest bassist Ian Hill says his band of 49 years has no plans to retire; they have too much fun on the road and in the studio.
Hill is the longest-tenure member of Judas Priest having held down bass duties since one of the band's first iterations in 1969. He says the heavy metal legends actually tried to slow down a few years ago but couldn't follow through.
The bassist says the band's current tour in support of its 18th studio album, Firepower, released this past winter, is far from a farewell.
"We are out supporting a new record," he matter-of-factly told The Metal Crypt. "We did try to slow down a couple of tours ago, and that didn't happen. We just miss it too much. We enjoy doing it, as long as we are capable of doing it."
Hill continued, adding that the band will have to retire someday, but he doesn't believe that day will come soon. Judas Priest still puts on a quality live show, the fans still buy their music and critics adore the band's new music — particularly its most recent album.
"When the time does come [to retire from touring], it will come inevitably," Hill said. "When that will be — perhaps two years, three years, five years — who knows? We'll keep going as long as we can because we love it so much."
This past winter, Judas Priest frontman Rob Halford told Q104.3 New York about the incredible "connectivity" among heavy metal fans across the world. The singer described the band's undying enthusiasm for what they do.
"The biggest rush in the world is to be in the car and then your song comes on the radio," Halford tells the show. "It's just the biggest thrill. It's a buzz, man."
Firepower debuted at #1 on the U.S. Hard Rock charts and at #5 on the Billboard 200 albums chart; it was the highest debut for Judas Priest in the band's 49-year career.
"This is a testimony to our metal maniacs, our fans, here in North America...particularly in this instance," Halford said of the album's success. "It just shows you this incredible heavy metal love affair that continues to thrive."
Judas Priest is returning to the states this August in a co-headlining tour with hard rock pioneers Deep Purple.
Get all of Judas Priest's tour dates here.
Photo: Getty Images
Chat About Judas Priest Bassist Says "There's No Reason" for the Band to Retire