Meet the World's Ugliest Dog - English Bulldog Zsa Zsa
By RJ Johnson - @rickerthewriter
June 24, 2018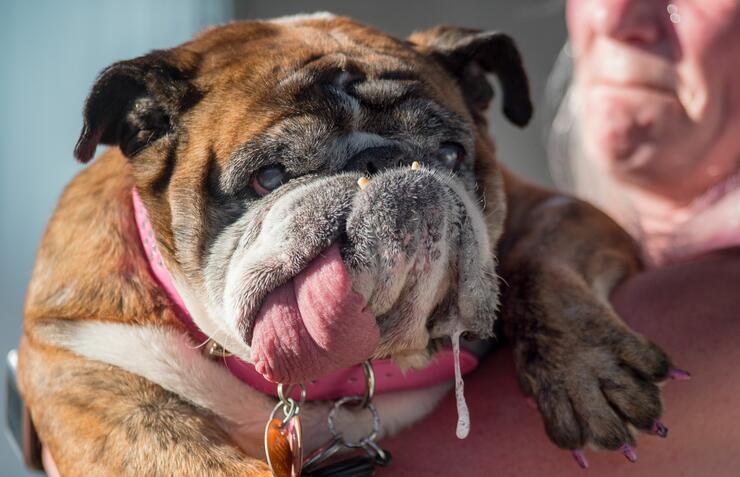 It's a face only a mother could love. Say hello to the world's ugliest dog.
Zsa Zsa, an English Bulldog with an underbite and muscular, bowed front legs is walking away the big winner of the 30th annual World's Ugliest Dog contest on Saturday night at the Sonoma-Marin Fair in Petaluma, California.
The annual competition features the imperfect pups flaunting what makes them special. From lolling tongues to hairless bodies and squished little faces, the dogs and their handlers stroll down a red carpet at the fair where judges evaluate them based on, well, ugliness.
Zsa Zsa's owner, Megan Brainard of Anoka, Minnesota, is set to receive $1,500 for her little guy's big win.
"The World's Ugliest Dog Contest is an iconic tradition of the Sonoma-Marin Fair. And with so many lovable animals displaced and available for adoption, we want our fans to know what this contest is really about. It's a fun and silly way to advocate that all animals deserve a safe and loving home," said Christy Gentry, a spokeswoman for the Sonoma-Marin Fair in a release.
Last year, a 125-pound Neapolitan Mastiff named Martha won the big prize. This year's competitors included a blackhead-covered Chinese Crested-Dachshunt mutt, a Bulldog mix with wrinkly skin and a Pekingese named Wild Thang, that lived up to her name.
You can check out some photos of Zsa Zsa's competition in the gallery below.
Chat About Meet the World's Ugliest Dog - English Bulldog Zsa Zsa