Stone Temple Pilots' Dean DeLeo Is a "Bully," Says Joe Perry's Son
By Andrew Magnotta
June 27, 2018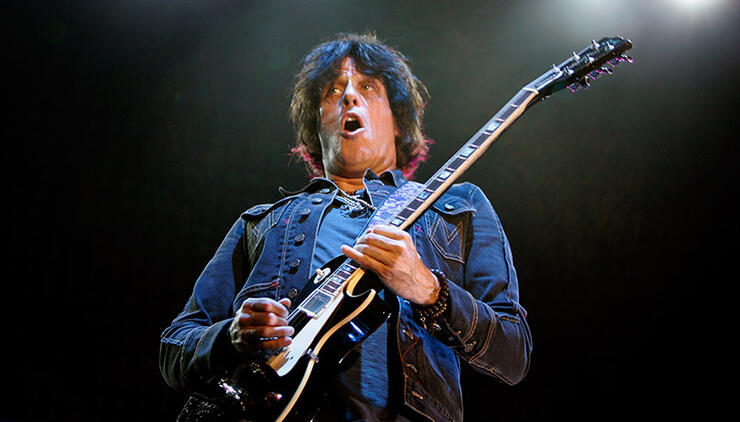 Jenn DeLeo's boyfriend is speaking up to defend her from anyone who thinks she's lying or exaggerating allegations against her estranged husband, Stone Temple Pilots' guitarist Dean DeLeo.
Aaron Perry, who is the son of Aerosmith guitarist Joe Perry, went after Dean in a recent Facebook post, supporting Jenn's claims that the guitarist is an abusive alcoholic.
"I've seen his temper first hand when he tried to fight me a week or so ago," Aaron Perry wrote (according to Alternative Nation). "I laughed in his face, stood right up to him and he cowered back in to his house because I'm not a child or a woman. I've read the texts and have heard the phone calls and voice mails and I have seen pictures of the bruises. He's a punk ass bully."
TMZ reported this week that Jenn filed for divorce earlier this June, just days after Dean made violent threats against her and admitted in front of their six-year-old daughter that he was cheating.
Aaron wrote that Stone Temple Pilots fans are making excuses for Dean or calling Jenn a liar just "because he can play guitar." He complimented Jenn for finding the courage to file for divorce and go public with the hell she's been living since marrying Dean in 2012.
In an Instagram post last week, Aaron wrote that Jenn has "looked evil in the eye and said 'enough!'"
Dean allegedly assaulted Jenn once when she found him sleeping in his car in their garage with the engine running and the garage door closed, according to TMZ. She says he's attempted to strangle her more than once. She also says he assaulted her last Thanksgiving — the only reason she didn't press charges was because she didn't want to cast a pall over the holidays.
She constantly lives in fear of Dean, she says, who has boasted that he could have his other ex-wife killed. Jenn has also accused Dean of abusing his son from that previous marriage.
Jenn wrote on Instagram that she and Aaron meet by chance a while back. They became confidants online and the relationship blossomed from there.
Photo: Getty Images
Chat About Stone Temple Pilots' Dean DeLeo Is a "Bully," Says Joe Perry's Son