Jason Mraz's Guest DJ Station: Sara Bareilles, Sade & More
By Hayden Brooks
June 28, 2018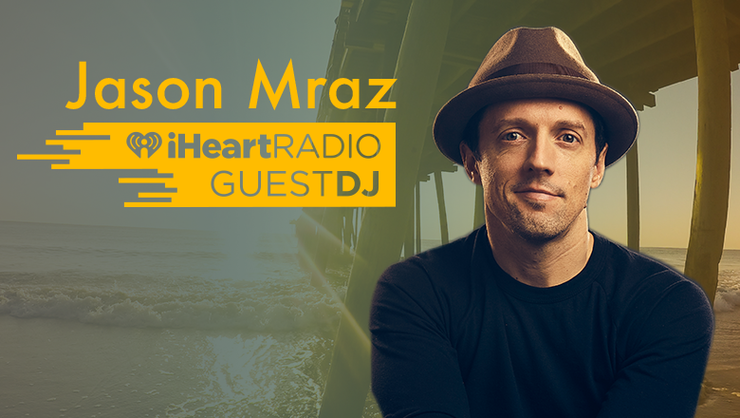 Jason Mraz is a man of many different musical interests. While he's conquered the realm of contemporary pop music, we also know that he has an affinity towards the more animated sounds on Broadway. Cue his 2017 musical debut in Waitress alongside Sara Bareilles. And yet, Mr. Mraz is much more than meets the eye when it comes to his musical sensibility.
Ahead of the release of his new album, Know, which is due on August 10, iHeartRadio passed the mic over to the 41-year-old singer/songwriter for a Guest DJ station, where he went through some of his most favorite songs and you might just be surprised. What song did Jason and his wife, Christina Carano, dance to at their wedding in 2015? Who was one of his favorite R&B groups growing up in Mechanicsville, Virginia? Well, you'll have to take a listen to the pop singer explain it all with the Jason Mraz Guest DJ station. Scroll on below to get your fix!
Sade - "By Your Side"
"I got married about three years ago. This was the song my wife and I danced to. This is the song my wife and I consider 'our song.' This is Sade, 'By Your Side.'"
"Sara Bareilles - "You Matter To Me" featuring Jason Mraz
"This next tune is from Sara Bareilles' hit musical, Waitress. Of course, it's performed by Sara Bareilles. I had the pleasure of starring opposite Sara on Broadway in the very musical that I'm referring. This song actually is the song where Sara and I, also known as Dr. Pomatter and Jenna Hunterson, are confessing their love to each other."
TLC - "Way Back" featuring Snoop Dogg
"Here's one of my favorite bands, groups growing up. This is TLC ... tender love and care. Left Eye, Chili and T-Boz guesting with Snoop Dogg on a fairly recent track."
Chat About Jason Mraz's Guest DJ Station: Sara Bareilles, Sade & More