Why Kim Kardashian 'Had To' Put Tristan Thompson On Blast Post-IG Block
By Hayden Brooks
July 2, 2018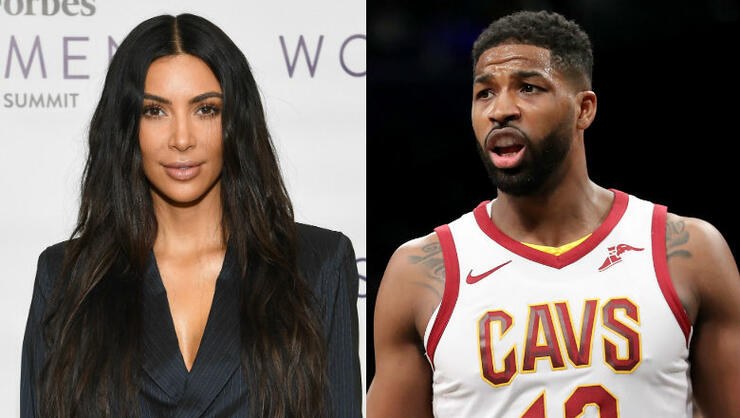 Kim Kardashian West had a real candid moment with Tristan Thompson, the boyfriend of sister Khloé, when the socialite put him on blast for blocking her on Instagram and then proceeded to force him to remove the ban. Much to our entertainment, the star did so on Instagram Story for all of her 113 million followers to see.
"I did [the video] just spur-of-the-moment," Kardashian West admitted to Extra at her KKW Beauty Pop-Up Shop, adding that the NBA star had no idea that she was recording at the time. "I thought about it, I was like, 'Wait a minute, you have your phone out and this is really awkward 'cause you blocked me,' and, 'What's up? We're all in the same room again. Can I get a follow? Can I get an unblock at least?'"
Later in the chat, the beauty mogul admitted that the bad blood that existed between her and Tristan simply cannot overcome the love that she has for her family. "I was just raised, you know, that blood is thicker than water and family first, and that's also what keeps us sane," she continued. "When we have those family dinners and we just get to hang out and be together through all the craziness that we've been through, we love each other and support each other, so it's always just fun to be together and no matter what we'll support each other. We know that."
In mid-June, sources close to PEOPLE revealed that Khloé and Tristan are in "the best place they've been since the scandal." "Khloé's super family-focused and wants to keep her family together," the insider revealed. "The focus is on their newborn daughter. Tristan's been supportive and helping out when he can. No one was anticipating he was going to come out with her and that they would be so public last night."
Chat About Why Kim Kardashian 'Had To' Put Tristan Thompson On Blast Post-IG Block