Styx Playing "Mr. Roboto" Again Won't Lead to Dennis DeYoung Reunion
By Andrew Magnotta
July 3, 2018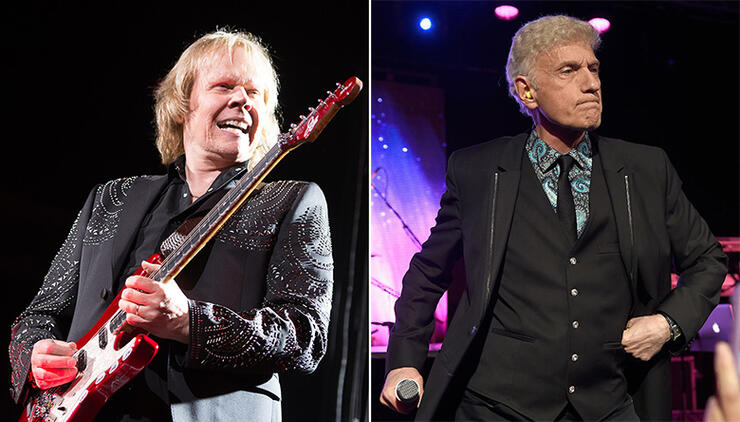 Styx guitarist James "J.Y." Young says the reason the band revived its 1983 hit song "Mr. Roboto" after so many years is simple: the fans kept asking for it.
The band began including the song in its setlist on its current tour after 35 years of not performing it in its entirety. The song is controversial in the world of Styx because it represented a significant departure from the band's earlier hard rock sound.
J.Y. added in a recent interview with Billboard that "Mr. Roboto" being back in the setlist isn't a harbinger of a reunion with former frontman and "Mr. Roboto" songwriter Dennis DeYoung. He says it was just about serving the band's fan base.
"There were young people whose first song they bought was 'Mr. Roboto,' and that sent them back to the previous albums," Young said. "While it killed the momentum of the first huge wave of Styx, it actually spawned the next generation of Styx fans."
J.Y.'s comments will surely amuse DeYoung, who last performed with Styx in 1999. DeYoung has long defended "Mr. Roboto" and decried his former band for distancing themselves from it.
"It's just wrong; it's counterproductive," DeYoung said in a recent interview with Eddie Trunk. "And I think it hurts our legacy, which to me is the most important thing. I didn't do this thing to become a flash in the pan. I did this to create something that will live longer than myself, and I think we've done that. But a lot of damage has been done to our fanbase. And I regret it and I apologize to [the fans]."
"Mr. Roboto" appeared on the band's hit Kilroy Was Here album in 1983. Differing opinions on the album's musical direction and the band's live shows in support of Kilroy led to Styx breaking up later that same year.
The hard feelings have subsided, but that doesn't mean there will be a reunion.
"I'm not mad at [DeYoung] anymore," J.Y. said. "I've forgiven him and I wish the man well and happiness. I just have no desire to work with him. It doesn't open that door up for me in the least."
While the song is back in the band's set after so much time, J.Y. points out that the band tweaked the arrangement to make it more guitar-heavy and "more palatable." DeYoung used to perform the song onstage by himself with the aid of backing tracks, filling in space between his voice and keyboard.
Even after reuniting in the '90s with DeYoung, Styx was loathe to bring the song back. DeYoung, who parted ways with Styx in 1999, has been playing the song in his solo sets for the past 19 years. He has repeatedly pushed for a reunion.
Photo: Getty Images
Chat About Styx Playing "Mr. Roboto" Again Won't Lead to Dennis DeYoung Reunion