See Fergie's Black Eyed Peas Fourth of July Reunion (PHOTO)
By Taylor Fields
July 5, 2018
Nothing brings the family together like the Fourth of July, especially for The Black Eyed Peas!
Fergie and her Black Eyed Peas "fam" reunited on America's birthday in a photo shared by the singer on Instagram. In the picture, she is sitting with BEP members will.i.am, Taboo, and Apl.de.ap while enjoying the sunny weather together on the patriotic holiday. She captioned the post, "fourth w the fam @bep." Taboo also shared the photo with the caption, "HA-Pea 4th With style." (We see what you did there, Taboo)
And in her Instagram stories, Fergie shared some video footage from the day while dancing with apl.de.ap, and more. The group appeared to be having a great time being in each other's company.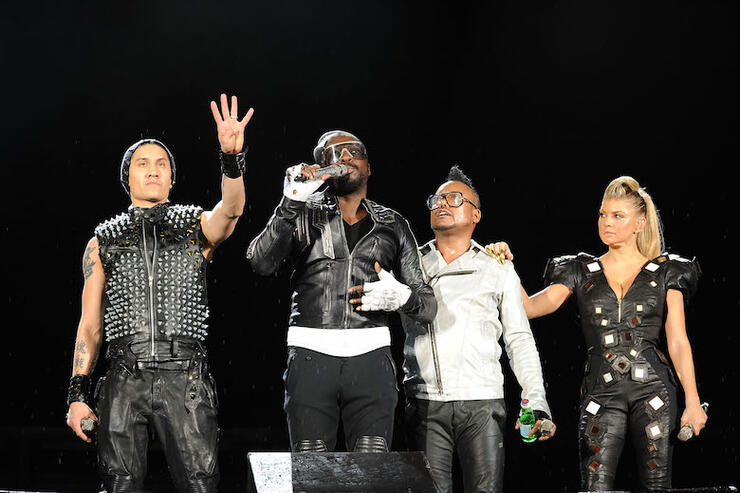 It wasn't too long ago that will.i.am confirmed that Fergie had, indeed, left The Black Eyed Peas, and will not be featured on the group's new album, telling the UK's Daily Star, "We are now a trio. I don't know why Fergie isn't on the project. You will have to ask Fergie that."
However, BEP has also perviously commented that despite Fergie not appearing on the project, or being a part of the group, that she's still "family." Will.i.am explained to Rolling Stone back in January when asked about Fergie not being a part of their song, "So there's a song that Black Eyed Peas did with De La Soul on Bridging the Gap ['Cali to New York'], it was just me and De La Soul. There's a song that we have ['Gone Going'] ... it was just me and Jack Johnson. There's a song called 'The Apl Song' where it's just Apl. Ain't none of us on it. So that's the Black Eyed Peas."
Despite all of this confirmation that BEP is now Fergie-less, fans are undoubtedly wondering if this reunion was purely friendly, or if something else is in the works. Only time will tell!
Photo: Getty Images
Chat About See Fergie's Black Eyed Peas Fourth of July Reunion (PHOTO)