Ann Wilson: Chester Bennington Was Afraid After Chris Cornell's Death
By Andrew Magnotta
July 6, 2018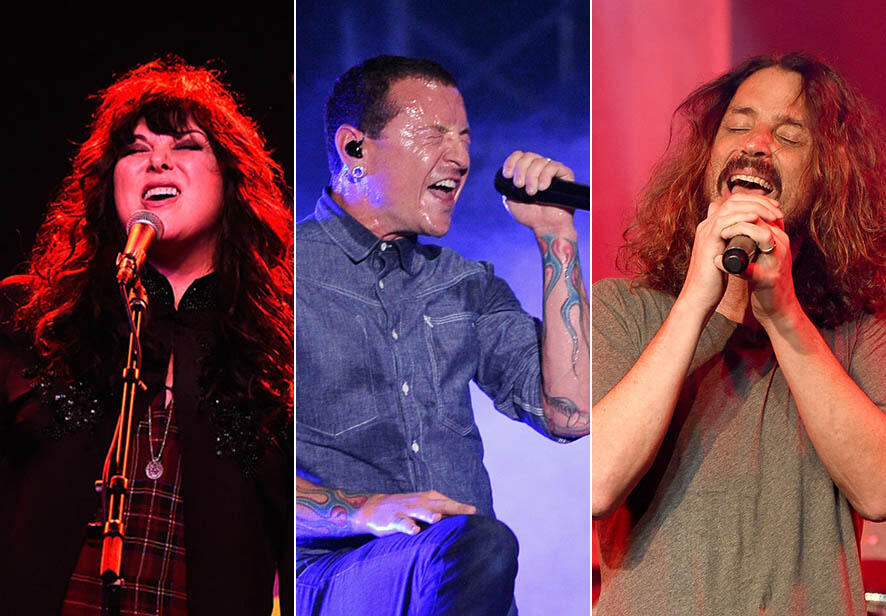 Heart singer Ann Wilson says she spoke with Chester Bennington about Chris Cornell's death just weeks before Bennington took his own life.
Wilson recalled her encounter with the Linkin Park frontman in a new interview with Rolling Stone, surrounding her latest album, Immortal, which consists of tributes to her musical inspirations.
The Rock and Roll Hall of Famer Wilson said she and Bennington crossed paths backstage at a TV studio after someone alerted her that Bennington wanted a meeting.
"He was really upset," she said. "This was just a couple of weeks before he decided to take himself... He was really a mess. So anxious and sad and had to go onstage in a minute. I think that Chris's departure hit him hard because he recognized the impulse. He had been hit by this news. There was a lot of fear there. I said to him, let's just breathe here and look in each other's eyes and go, 'We're still here right now, let's just do this.' A couple of weeks later, he was gone."
As fellow Seattle-based rockers, Wilson and her sister Nancy were longtime friends of Cornell and his bandmates in Soundgarden. Bennington counted Cornell as one of his biggest influences; the two later became close friends. Bennington even sang "Hallelujah" at Cornell's funeral.
Wilson says the two iconic rockers had similar personalities.
"I wouldn't say one [suicide] made the other happen," Wilson said, "but Chris's death obviously affected Chester deeply. Chris's death affected me, but I wasn't that surprised. He always had gallows humor about being lonely in hotel rooms. 'The only thing missing is a noose,' he'd say. And it was like, 'Oh, Chris.' And he's like '[I'm] too tired, the road is too hard, too impersonal.' He was darkly joking."
On her Immortal album, Wilson covers one of Cornell's biggest hit songs with his band Audioslave, "I Am the Highway." You can listen to it below.
Immortal comes out September 14. Wilson is touring this summer with Jeff Beck and Paul Rodgers. Get the tour dates here.
Photos: Getty Images
Chat About Ann Wilson: Chester Bennington Was Afraid After Chris Cornell's Death