Panic! At The Disco's Brendon Urie Comes Out As Pansexual
By James Dinh
July 6, 2018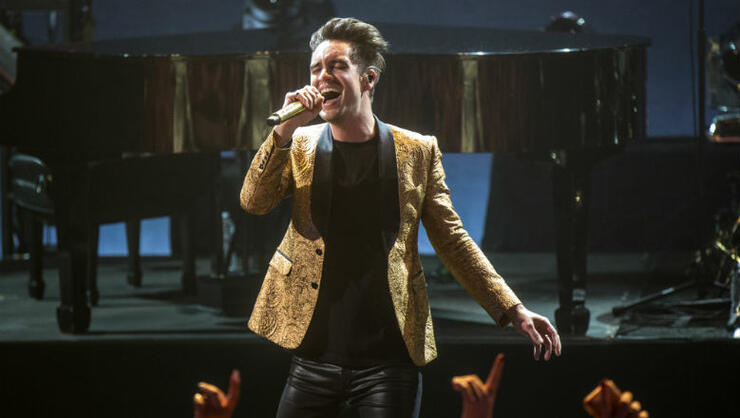 After years of buzz around his sexuality, Brendon Urie of Panic! at the Disco has come forward and admitted that he is pansexual.
In his new interview with PAPER magazine in promotion for the band's newest chart-topping LP, Pray For The Wicked, the 31-year-old frontman said he doesn't discriminate between men and woman when it comes to sexual preference. "I'm married to a woman and I'm very much in love with her but I'm not opposed to a man because to me, I like a person," he told the outlet. "Yeah, I guess you could qualify me as pansexual because I really don't care. If a person is great, then a person is great. I just like good people, if your heart's in the right place. I'm definitely attracted to men. It's just people that I am attracted to."
Asked to clarify on the matter, he confirmed that he is pansexual and went on to admit "it was never weird for [him]" to come to terms with his sexuality when he was younger. "I know that it made a few people uncomfortable, when somebody gets uncomfortable about me doing what I used to call 'stage gay.' It kind of presses me to want to do it more," he continued. In case you're wondering, Urie met his wife Sarah Orzechowski on tour in 2008. They went on to tie the knot in 2013.
Just last week, Urie announced a new partnership with GLSEN (Gay, Lesbian, and Straight Education Network) to help create Gender & Sexuality/Gay-Straight Alliances (GSA) in K-12 schools across the nation. In efforts of kicking off the partnership, Urie pledged $1 million to the organization. "For years my fans have inspired me with their determination and creativity as they have created a safe and inclusive community," the singer said in a statement. "I felt the time had come for me to join them boldly, to bring that energy and power to bear on the huge challenges facing our whole society."
Chat About Panic! At The Disco's Brendon Urie Comes Out As Pansexual