Justin Bieber & Hailey Baldwin's 2011 Red Carpet Photo Resurfaces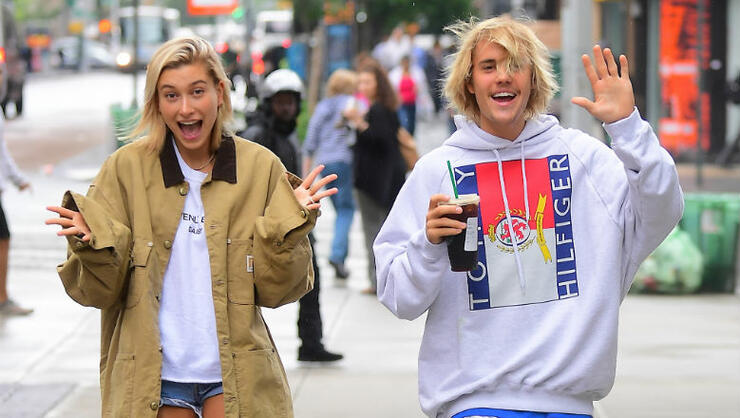 Justin Bieber's newly-announced engagement to Hailey Baldwin has Beliebers digging through the archives to learn more about their longtime history with one another, and a red carpet moment from 2011 seems to be flooding their timelines.
After word had spread that the pair got engaged during their vacation in the Bahamas, Beliebers took to Twitter to share a newly-resurfaced shot of the star-studded duo at the New York City premiere of Bieber's biopic, Never Say Never, where father Stephen Baldwin was also in attendance. At the time, the pop star was just 16-years-old, while Hailey was only 14-years-old. If you want to go even further back in time, the pair seem to have met in 2009 when Stephen introduced the two at an event. "What's up, bro? This is my daughter, Hailey. We've been enjoying your music lately," he told the teen pop star, who was rocking his famed hair swoop at the time. 
Beliebers have also discovered an old interview with the star, where he admitted that Baldwin was someone he really loved and might marry one day. "I don't want to put anyone in a position where they feel like I'm only theirs, only to be hurt in the end," he toldGQ magazine in 2016. "Right now in my life, I don't want to be held down by anything. I already have a lot that I have to commit to. A lot of responsibilities. I don't want to feel like the girl I love is an added responsibility."
"I know that in the past I've hurt people and said things that I didn't mean to make them happyin the moment," he continued. "So now I'm just more so looking at the future, making sure I'm not damaging them. What if Hailey ends up being the girl I'm gonna marry, right? If I rush into anything, if I damage her, then it's always gonna be damaged. It's really hard to fix wounds like that. It's so hard. I just don't want to hurt her."
Hailey baldwin won at life. From a Justin Bieber's fan to being his friend then a girlfriend to finally engaging him.

Congratulations to both🤙👏 pic.twitter.com/YU3NuWL7au

— Bijay. (@sexgodstin) July 8, 2018
Hailey baldwin won at life. From a Justin Bieber's fan to being his friend then a girlfriend to finally engaging him.

Congratulations to both🤙👏 pic.twitter.com/YU3NuWL7au

— Bijay. (@sexgodstin) July 8, 2018
Hailey Baldwin went from being a fan to being his friend to being his girlfriend and now she's actually marrying Justin Bieber tell me a better love story pic.twitter.com/hvu4dygjU5

— chloe (@bieberdepthed) July 9, 2018
Chat About Justin Bieber & Hailey Baldwin's 2011 Red Carpet Photo Resurfaces