Huge 60-Plus Song Tom Petty Box Set Announced
By Andrew Magnotta
July 12, 2018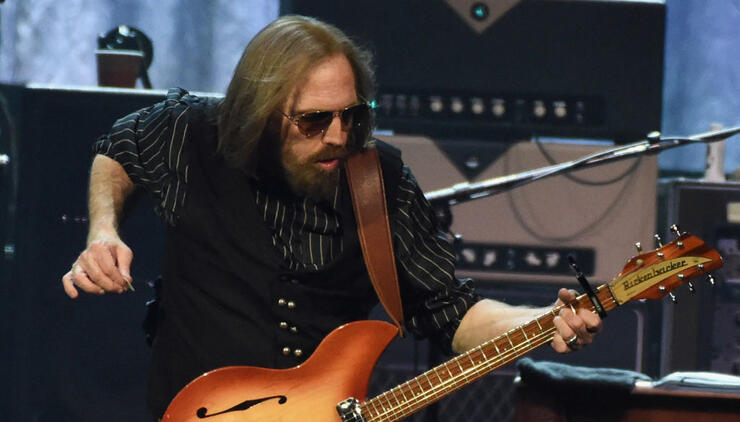 A massive Tom Petty box set called American Treasure is coming September 28.
The 63 songs in the collection represent each period in the late-Rock and Roll Hall of Famer's career with The Heartbreakers. The track listing includes outtakes and live versions hand-picked by Petty's closest family and friends.
Variety reports the songs were compiled by Petty's wife Dana, his daughter Adria, his longtime engineer Ryan Ulyate and Heartbreakers band members Mike Campbell and Benmont Tench.
A countdown clock that appeared on Petty's website Monday wound down to the official announcement Thursday morning.
After the clock appeared, many fans wondered if Petty's camp was teasing a release of the long-awaited double-album version of Petty's 1994 solo album, Wildflowers. Petty wrote the record as a double-album, but his record label at the time discouraged such a hefty release.
Petty later said he hoped to find occasion to release the album as he originally intended and tour to support it. It has been reported that the singer was going to begin planning the Wildflowers release before his death last September.
Check out the track listing below.
Tom Petty American Treasure
1. Surrender (Outtake, 1976)
2. Listen to Her Heart (Live at Capitol Studios, Hollywood, CA, 11/11/77)
3. Anything That's Rock 'n' Roll (Live at Capitol Studios, Hollywood, CA, 11/11/77)
4. When the Time Comes (2018 Remaster)
5. You're Gonna Get It (Alternate Version, 1978)
6. Radio Promotion Spot (1977)
7. Rockin' Around (With You) [2018 Remaster]
8. Fooled Again (I Don't Like It) [Alternate Version, 1976]
9. Breakdown (Live at Capitol Studios, Hollywood, CA, 11/11/77)
10. The Wild One, Forever (2018 Remaster)
11. No Second Thoughts (2018 Remaster)
12. Here Comes My Girl (Alternate Version, 1979)
13. What Are You Doing in My Life (Alternate Version, 1979)
14. Louisiana Rain (Alternate Version, 1979)
15. Lost in Your Eyes (Outtake, 1974) Mudcrutch
16. Keep a Little Soul (Outtake, 1982)
17. Even the Losers (Live at Bridge School Benefit II, Oakland-Alameda County Coliseum, Oakland, CA, 12/4/88)
18. Keeping Me Alive (Outtake, 1982)
19. Don't Treat Me Like a Stranger (2018 Remaster)
20. The Apartment Song (Demo, 1984) Tom Petty & The Heartbreakers & Stevie Nicks
21. Concert Intro (Live at the Forum, Inglewood, CA, 6/28/81)
22. King's Road (Live at the Forum, Inglewood, CA, 6/28/81)
23. Clear the Aisles (Live at the Forum, Inglewood, CA, 6/28/81)
24. A Woman in Love (It's Not Me) [Live at the Forum, Inglewood, CA, 6/28/81]
25. Straight into Darkness (Alternate Version, 1982)
26. You Can Still Change Your Mind (2018 Remaster)
27. Rebels (Alternate Version, 1985)
28. Deliver Me (Alternate Version, 1982)
29. Alright for Now (2018 Remaster)
30. The Damage You've Done (Alternate Version, 1987)
31. The Best of Everything (Alternate Version, 1985)
32. Walkin' from the Fire (Outtake, 1984)
33. King of the Hill (Early Take, 1987) Tom Petty & The Heartbreakers & Roger McGuinn
34. I Won't Back Down (Live at the Fillmore, San Francisco, CA, 2/4/87)
35. Gainesville (Outtake, 1998)
36. You and I Will Meet Again (2018 Remaster)
37. Into the Great Wide Open (Live at Oakland-Alameda County Coliseum, Oakland, CA, 11/24/91)
38. Two Gunslingers (Live at the Beacon Theatre, New York, NY, 5/25/13)
39. Lonesome Dave (Outtake, 1993)
40. To Find a Friend (2018 Remaster)
41. Crawling Back to You (2018 Remaster)
42. Wake Up Time (Alternate Take, 1992)
43. Grew Up Fast (2018 Remaster)
44. I Don't Belong (Outtake, 1998)
45. Accused of Love (2018 Remaster)
46. Lonesome Sundown (2018 Remaster)
47. Don't Fade on Me (Alternate Take, 1994)
48. You and Me (Clubhouse Version, 2007)
49. Have Love Will Travel (2018 Remaster)
50. Money Becomes King (2018 Remaster)
51. Bus to Tampa Bay (Outtake, 2011)
52. Saving Grace (Live at Malibu Performing Arts Center, Malibu, CA, 6/16/06)
53. Down South (2018 Remaster)
54. Southern Accents (Live at Stephen C. O'Connell Center, Gainesville, FL, 9/21/06)
55. Insider (Live at Stephen C. O'Connell Center, Gainesville, FL, 9/21/06) Tom Petty & The Heartbreakers & Stevie Nicks
56. Two Men Talking (Outtake, 2012)
57. Fault Lines (2018 Remaster)
58. Sins of My Youth (Early Take, 2012)
59. Good Enough (Alternate Version, 2012) Mudcrutch
60. Something Good Coming (2018 Remaster)
61. Save Your Water (2018 Remaster)
62. Like a Diamond (Alternate Version, 2002)
63. Hungry No More (Live at House of Blues, Boston, MA, 6/15/16) Mudcrutch
Photo: Getty Images
Chat About Huge 60-Plus Song Tom Petty Box Set Announced