Juice WRLD & Lil Uzi Vert Team Up For New Song 'Wasted'
By Hayden Brooks
July 12, 2018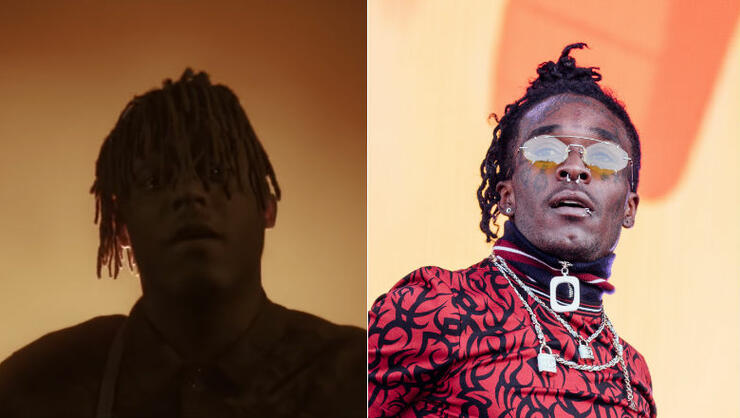 Budding rapper Juice WRLD and Lil Uzi Vert have teamed up for a new track called "Wasted," a four-minute trap-heavy cut that explores the latter's use of video games and drugs to numb his weakness over a troubled girl.
"Wasted" hears WRLD unravel an unhealthy relationship with a girl who is always under the influence of drugs. To combat the dilemma, he uses drugs himself to try and forget her, but she keeps coming back. "Wasted, GTA love, b*tches wasted/ Wasted, I'm on these drugs, I feel wasted/ Wasted, get her off my mind when I'm wasted/ Wasted, I waste all my time when I'm wasted," he declares on the hook. Lil Uzi Vert pops up for the second verse, spitting speedy bars about his sexual appetite. It's a fitting collaboration due to the rappers' pop/punk experimentation. The track now appears as an added cut on WRLD's debut studio LP, Goodbye and Good Riddance, which dropped in May.
The track also serves as the follow-up to Uzi's remix of WRLD's massive hit, "Lucid Dreams," which is currently sitting comfortably at the No. 16 position on the Billboard Hot 100.
Expect to hear more from Uzi Vert when he takes the stage at our Daytime Stage at the 2018 iHeartRadio Music Festival to Las Vegas. He'll be joined by the likes of Dua Lipa, 5 Seconds of Summer, Dustin Lynch, Bazzi, Belly, Bobby Bones and The Raging Idiots and Greta Van Fleet.
Photo: YouTube/Cole Bennett - Lyrical Lemonade/Getty Images
Chat About Juice WRLD & Lil Uzi Vert Team Up For New Song 'Wasted'