Benny Blanco Teams Up With Halsey & Khalid For New Song "Eastside" (VIDEO)
By Nicole Mastrogiannis
July 13, 2018
Benny Blanco has been the mastermind behind many of the biggest hit songs over the years, but now, he's releasing his very first song as an artist, called "Eastside," and it features Halsey and Khalid.
"Eastside" was co-written by Blanco, Ed Sheeran, Halsey and Khalid, with production from Benny, watt, and Cashmere Cat — basically a song put together by a powerhouse of talent. The track starts off with Khalid singing the first half, with Halsey picking up the second half, then coming together as a duet at the end.
Along with the release of "Eastside" is its accompanying music video, which was directed by Jake Schreier. In the nearly three-minute visual, fans are introduced to Benny and learn more about him, and about his very first relationship. They meet the first girl he ever asked out and what she's up to now.
During Halsey's verses, the video also takes fans down memory lane and fans meet one of her first loves — a girl named Lily that she met at summer camp. In fact, the star tweeted of the clip, "This video holds so many personal pieces of me."
On Instagram, Benny said of sharing his very first release as an artist, "I just released my first song and video after being behind the scenes for 10+ years... this started out as something fun just to release songs [with] my friends that I love but then it became really personal and it feels like I just gave birth to my first song baby! Her name is eastside. Bye!"
Watch benny blanco's "Eastside" music video featuring Khalid and Halsey above!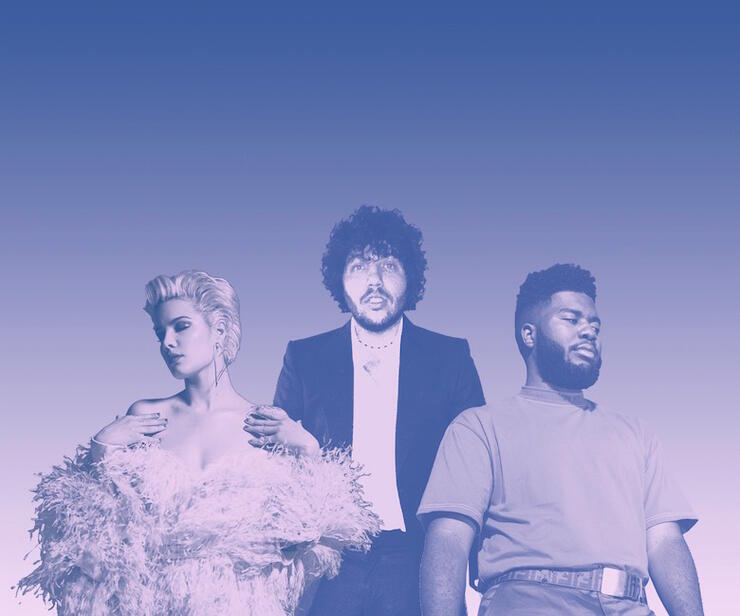 Benny has created a multitude of hit songs with so many superstars throughout his career thus far including Ed Sheeran, Justin Bieber, Maroon 5, Rihanna, Katy Perry, The Weeknd, Selena Gomez, and so many others. In 2017, he won the iHeartRadio Music Award for Producer of the Year and is also a five-time BMI Songwriter of the Year winner and four-time Grammy winner, among other impressive accolades.
After the release of "Eastside," many of the stars he's worked with congratulated him on his debut release. Ed Sheeran posted on Instagram, "Me and @itsbennyblanco wrote this song and now it's his first single as an artist. Very proud of him, please check it out, you'll love it xx." And OneRepublic shared on Twitter, "Friend & collaborator the band & Ryan- the funny, baritone, super talented @itsbennyblanco is launching his own artist project after a decade writing amazing stuff for other artists. Be a new music supporter & check out his single "Eastside" featuring Khalid & Halsey."
See all of his friends' reactions below.
Friend & collaborator the band & Ryan- the funny, baritone, super talented @itsbennyblanco is launching his own artist project after a decade writing amazing stuff for other artists. Be a new music supporter & check out his single "Eastside" featuring Khalid & Halsey 🙌🙌🦄🦄🦄🖖

— OneRepublic (@OneRepublic) July 13, 2018