System of a Down's Daron Malakian Explains the Band's Lack of New Music
By Katrina Nattress
July 15, 2018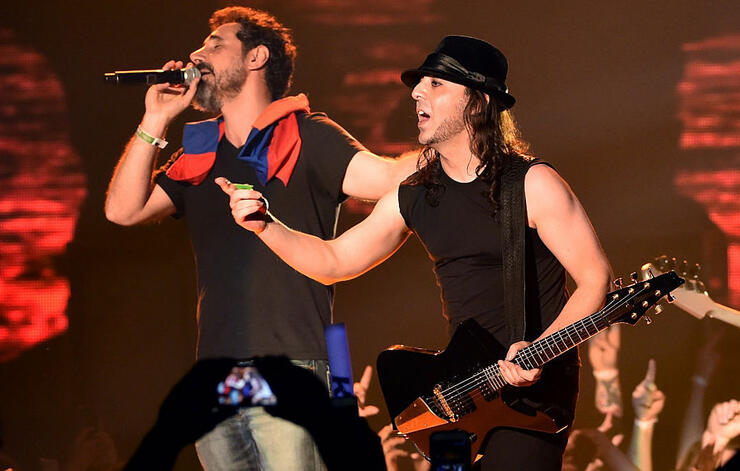 System of a Down is not on hiatus. They reunited in 2010 after a four-year break and have a few tour dates in October; however, they haven't released new music in 13 years.
The band's guitarist Daron Malakian is gearing up to release a new collection of songs with his other project, Scars On Broadway, which will include material from 2012 that he'd been saving for a future SOAD album. In a new interview with Kerrang! (via Blabbermouth), Malakian dishes on the real reason why we haven't heard anything new from the heavy rockers in over a decade, and it's got a lot to do with frontman Serj Tankian.
"I don't want to throw Serj under the bus — he's my friend and he's someone that I care about — but I don't know how to change his mind. We've all sat down and we've had meetings, and he's totally set in his way of thinking," Malakian admits. "Serj was never really a heavy metal or a rock guy … I don't know if he has the same love for this kind of music as I do. I'm the kid that grew up with Slayer and Kiss on my walls … Serj didn't grow up feeling that way. He didn't grow up a diehard fan. So I feel like the whole experience of becoming the lead singer in a hugely successful band was different for him than my experience was for me. To be honest with you, Serj didn't even want to make Mezmerize and Hypnotize. We really begged him to make those records. At that time, he felt like he was out."
Tankian wrote a lengthy explanation of his own, which he posted on Facebook. "It is true that I and only I was responsible for the hiatus Soad took in 2006," he begins. "Everyone else wanted to continue at the same pace to tour and make records. I didn't."
Read his full, brutally honest, post below.
Chat About System of a Down's Daron Malakian Explains the Band's Lack of New Music