Barbara Corcoran Opens Up About Bouncing Back From Failure
By James Dinh
July 17, 2018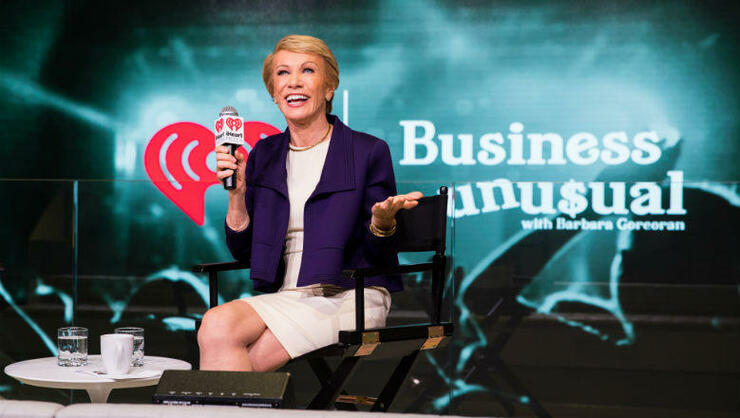 Barbara Corcoran has always used detractors as motivation to conquering her goals and success, and the latest episode of Business Unusual, which was released on Tuesday (July 17), heard the media mogul detail her earliest take of insult.
"As I built my real estate empire, I got very good at failing and I got even better at getting back up. It seemed to be all my best successes always happen on the heels of failure. I learned early to fail and I also learned that insult can be a great motivator," she explained. "When Sister Stella Marie told me in third grade that I'd always be stupid just because I couldn't learn to read like the other kids, I almost believed her. I've been using that to constantly prove to the world that I'm smart ever since."
Corcoran also recalled the story about how she lost her voice the first time that she gave a speech. "Once I got over it, I volunteered to teach a night course at NYU on the only subject I knew: how to sell real estate," she said. "It was in that course that I met Carrie Chiang and she came to work for me. She was soon to become the number one salesperson in all of New York City and still holds that record today. It pays big to recover from failure."
Corcoran hit another wall when she signed her contract to appear as the sole women on the judging panel for Shark Tank. Unfortunately, the mogul was replaced last minute by another female. "I quickly sent the producer an email saying I consider your rejection a lucky charm. All of the biggest successes in my life happen on the heels of failure, and I cited my biggest turnarounds," she said. "I told him I bought my own ticket on next week's plane and he should invite both women out to compete for the lone female seat."
If you have a question to ask Barbara on a future Indeed-presented episode of Business Unusual on iHeartRadio, tweet your inquiry to@BarbaraCorcoran and stay tuned to see if the entrepreneur offers you some sound advice. Are you hiring?With Indeed, you can post a job in minutes, set up screener questions, then zero in on your shortlist of qualified candidates. Get started today at Indeed.com/Barbara for your chance to get $50 off a sponsored job.
Business Unusualwith Barbara Corcoran on iHeartRadio gives listeners an inside look at the entrepreneur's decades-long career, including her first-person stories of triumphs and pitfalls. As you listen to her new podcast, you'll learn a wave of advice that has helped a new generation of young entrepreneurs achieve their goals. As one of the judges on ABC's Shark Tank, Corcoran knows a thing or two about the inner workings. After all, she had 22 jobs by the age of 23, built a $5 billion business with a $1,000 loan and conquered the New York real estate world.
Photo: Katherine Tyler for iHeartRadio
Chat About Barbara Corcoran Opens Up About Bouncing Back From Failure