Jude Law Reveals New Plot Details About 'Fantastic Beasts 2'
By Emily Lee
July 17, 2018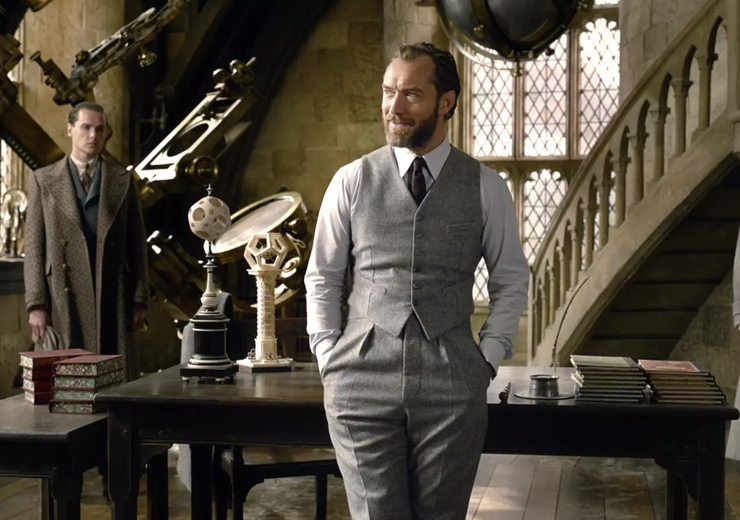 Jude Law has taken on the difficult task of portraying a beloved character that two other actors have already brought to life on the big screen. I'm talking, of course, about Law's casting as a young Albus Dumbledore in the Harry Potter spin-off film Fantastic Beasts: The Crimes of Grindelwald. We've gotten a small taste of Law's portrayal of Dumbledore in promotional stills and the first trailer for the upcoming film, but Law has stayed pretty quiet on his casting. He sat down with Entertainment Weekly to discuss his latest role in-depth for the first time, though, and revealed new plot details, as well as addressed some of the backlash the film has been facing recently.
During his interview, Law said that he really focused on Dumbledore's interior life while bringing the character to life. "The one thing that came out was the sense of play. He has a youthful mercurial approach to life, but that there's something that hangs heavy in his heart, in his past, that underlies all of that," the 45-year-old actor said. "There's a root of good humor and good heart and sense of self and a sense of past." Could he be referring to Dumbledore's previous relationship with Gellert Grindelwald, as well as the devastating fallout for Dumbledore's family? Possibly!
When discussing Dumbledore's character in the film, Law revealed that the future headmaster of Hogwarts School of Witchcraft and Wizardry will not be teaching Transfiguration. This tidbit of information is particularly intriguing because, according to Potter lore, Dumbledore was the Transfiguration professor at Hogwarts before ascending to the role of Headmaster. Some theorists believe that Dumbledore will be teaching Defense Against the Dark Arts in the sophomore installment of the Fantastic Beasts franchise.
Law also revealed he only gets to cast *one* spell in the entire film. "Well … I ah … I only get to cast one. There's a lot you don't know about Albus in this film," he said. "And there are certain restrictions in storytelling — you'll see, it all makes sense. You don't see him in full flow yet."
Law addressed the recent backlash to director David Yates' comments that Dumbledore would be "explicitly gay" in this film. Law gave a lengthy response, which you can read in full:
Jo Rowling revealed some years back that Dumbledore was gay. That was a question I actually asked Jo and she said, yes, he's gay. But as with humans, your sexuality doesn't necessarily define you; he's multifaceted. I suppose the question is: How is Dumbledore's sexuality depicted in this film? What you got to remember this is only the second Fantastic Beasts film in a series and what's brilliant about Jo's writing is how she reveals her characters, peels them to the heart over time. You're just getting to know Albus in this film, and there's obviously a lot more to come. We learn a little about his past in the beginning of this film, and characters and their relationships will unfold naturally which I'm excited to reveal. But we're not going to reveal everything all at once.
It will be interesting to see if Law's comments come to fruition over the course of the series. Will we get to see Dumbledore become a more fully fledged character than we even saw in the original Harry Potter series? Only time will tell.
The last interesting bit of information that Law revealed is that he doesn't have any scenes with co-star Johnny Depp, who plays the titular Grindelwald. He instead teased - again - that the best is yet to come for these characters.
Fantastic Beasts: The Crimes of Grindelwald hits theaters on Nov. 16, 2018.
Chat About Jude Law Reveals New Plot Details About 'Fantastic Beasts 2'