Millie Bobby Brown And Noah Schnapp Do Drake's "In My Feelings" Challenge
By Emily Lee
July 18, 2018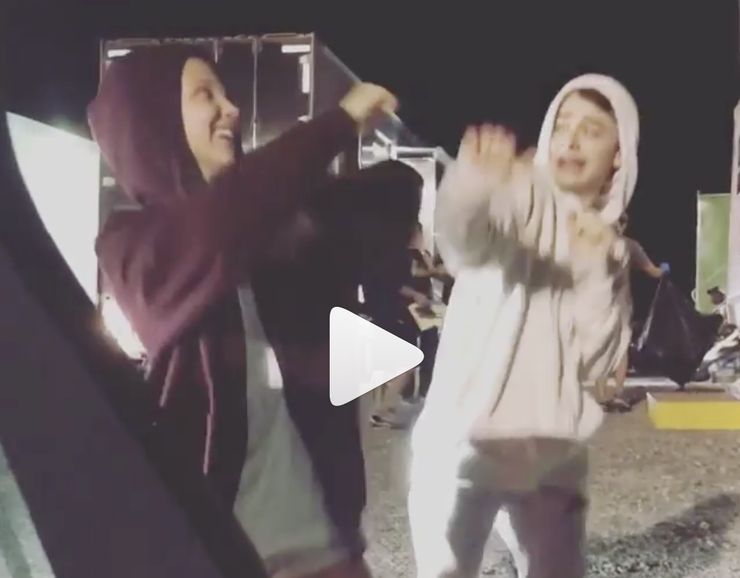 Keke, do you love Stranger Things? Because the cast of Stranger Things loves you. Millie Bobby Brown and Noah Schnapp slayed the #InMyFeelings challenge straight from Hawkins, Indiana. In between takes on a long night shoot, the two cast mates completed the challenge and it is everything. They're not on top of a bridge a la Will Smith, but it's still pretty cute to see Milly and Noah having so much fun together.
"Nights like these make me crazyyyyy," Millie captioned the video posted to her Instagram account. Noah also posted the video to his account, writing "night shoots." Both video quickly racked up millions of views. Not bad for a cell phone video made in the middle of the night!
The #InMyFeelings challenge has been completed by so many celebs over the past few days, but this one might just catch Drake's eye. He's a big Stranger Things fan himself, so, to have Eleven herself dance to your song is a pretty big deal. He even posted a photo with Millie to his Instagram account last year in Eleven's classic pose, captioning the shot "Hawkins Very Own."
Now that Noah and Millie have completed the challenge, we're going to need to see the rest of the Stranger Things cast step up. Joe Keery, we're looking you.
Chat About Millie Bobby Brown And Noah Schnapp Do Drake's "In My Feelings" Challenge