Miley Cyrus & Liam Hemsworth Spotted At An Airport Amid Breakup Rumors
By James Dinh
July 19, 2018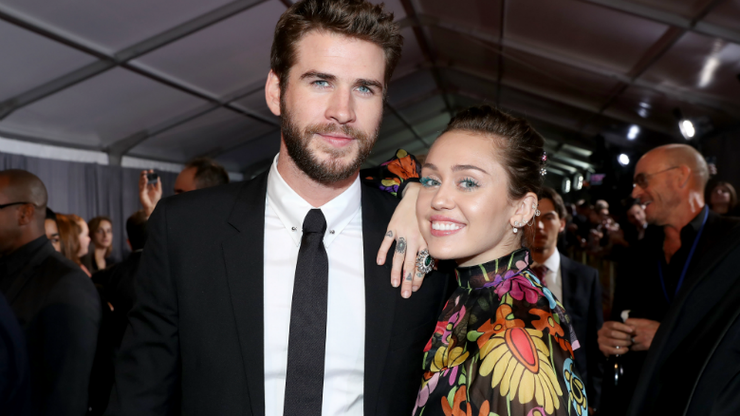 Update: Liam shut down the reports of a split when he posted a video on Instagram Story of him goofing off with Miley in a car.
Miley Cyrus and Liam Hemsworth may have split once again, according to OK! Australia, who have cited their attitudes towards becoming parents as the reason for their breakup. Nonetheless, the pair was spotted at an airport together on Wednesday (July 18), leading fans to question what exactly is going on with the power couple.
Just yesterday, a fan posted a video on Twitter of the couple arriving at an airport in Nashville. Hemsworth was recently spotted shooting a film in New York City earlier this week, which could mean that Cyrus was with him before they flew to Nashville together. As per the tabloid report, Liam has been interested in advancing their future together with a wedding and children, but the pop star apparently wasn't really into the idea. "He wants kids and doesn't want to keep putting it off but it's not quite the timeline Miley had in mind...he is left heartbroken," a source told the site. "Miley put off plans for the wedding and Liam was growing tired of it...They haven't been getting along in recent months."
Additionally, the tabloid reported that Cyrus didn't even want to get married. "They haven't been getting along in recent months," the tabloid reported. "[She] didn't really want to get married. It's something that everyone else seemed to get but Liam."
Cyrus and Hemsworth announced their engagement in 2012, before breaking up in 2013 and then reuniting in 2016. And yet, it's worth noting that the pop star did tell The Sun that the idea of marriage wasn't something she was elated about. "I don't envision marriage. I'm 24. I hope I get to live a little bit more," she explained in a 2017 interview. "I have too much living to do [before I get married]."
Chat About Miley Cyrus & Liam Hemsworth Spotted At An Airport Amid Breakup Rumors