Rapper Tekashi69 Robbed, Kidnapped and Hospitalized In New York City
By Connor Hachey
July 22, 2018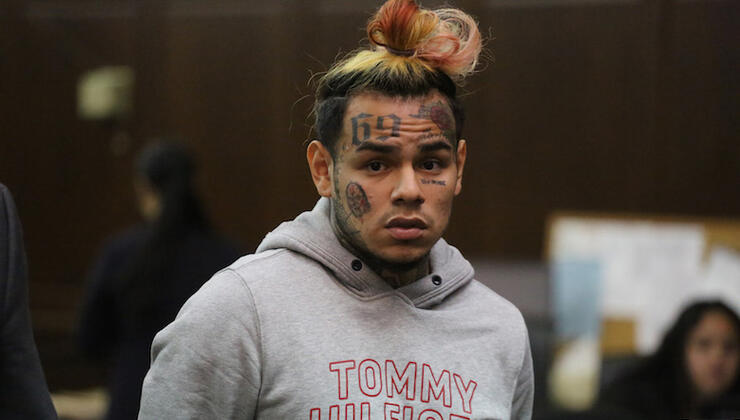 Rapper and social media mainstay Tekashi 6ix9ine was the victim of assault and kidnapping this morning in Brooklyn, New York as reported by TMZ.
Sources close to the 'Gummo' rapper's team detailed that Tekashi was filming a music video in Brooklyn in the early hours of Sunday July 22nd before driving home around 4AM ET. When he arrived to his house, another car blocked his entrance. 3 hooded assailants carrying firearms jumped out of the car and knocked 6ix9ine unconscious before kidnapping him and throwing him inside the vehicle.
The sources continued to reveal to TMZ that the next thing Tekashi knew, he was in the back seat of the gunmen's car while they threatened to murder him if he didn't provide 'jewelry and money.' A short time after the men invaded 6ix9ine's house while his daughter and girlfriend were still inside the residence. TMZ also learned that they were not hurt during the break in.
The men took around $750K in jewelry and almost $20K in cash before putting Tekashi back inside their car and driving away. At some point after, 6ix9ine allegedly jumped out of the car's back door and into the passenger seat of a stranger's vehicle, pleading for the person to call 911. An ambulance then arrived to take Tekashi to the hospital where he is currently undergoing medical testing by a team of doctors.
UPDATE: 12:30 PM ET
Law enforcement officials have revealed to TMZ that the story Tekashi told them differs from what he told their sources. They say around 4:25 AM on Sunday Tekashi was a passenger in a Chevy Tahoe in Brooklyn, NYC. A car bumped into him at a red light from behind, and two armed gunmen jumped out, stole the drivers iPhone then dragged Tekashi into their car.
From there they went to 6ix9ine's home and his girlfriend brought down jewelry after he called and requested it. Afterwards he escaped and reported the incident to the cops, but then became uncooperative and checked himself into the hospital.
Photo: YouTube Screenshot
Tekashi 6ix9ine recently was released on a $150K bail from Rikers Island after doing time for allegedly assaulting a teen in a Houston, Texas shopping mall. He was arrested upon returning from a European tour and placed in the prison's 'Contagious Disease Unit' due to his celebrity status and for safety from other inmates.
Photo: Getty Images
Chat About Rapper Tekashi69 Robbed, Kidnapped and Hospitalized In New York City