Tekashi69 Believes Robbery Was An "Inside Job"
By Emily Lee
July 23, 2018
Tekashi69 spoke with TMZ on Monday's "TMZ Live" to discuss his kidnapping and robbery, which happened over the weekend. After being pistol whipped by the men, Tekashi says he blacked out but believes the whole thing was a "set up" and an "inside job." The 22-year-old rapper suspects whoever is behind the incident had intel on his whereabouts and knew where he'd be on Sunday morning.
According to Tekashi, he stepped out of his house around 5a.m. to go complete the editing for his new music video for "FEFE" featuring Nicki Minaj and Murda Beatz. "Our vehicle got hit from behind. As the driver got out, the gunman came out, you know what I'm saying?" He explained. "I black out right there. All I saw was a flash. It just happened so quick."
When Tekashi woke up, he was in the back seat of a different car. He had nothing valuable on him at the time of the assault. When he came to, Tekashi asked his assailants to "let him see my daughter another day. I've got a two-year-old daughter at home."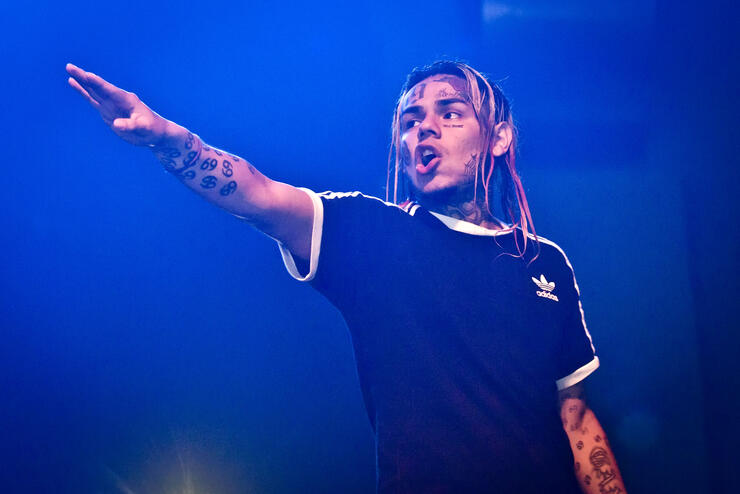 Tekashi claims he told the gunmen that if they let him see his daughter again, they could take jewelry and other valuables from his house. He did not tell them where he lives, though, but they were still able to find his house on their own. This makes him believe he was set up by something with information about him. "It was, like, an inside job," he said. "I wouldn't want to set up a publicity stunt and lose close to a million dollars."
He calls himself the boy who calls wolf because he's known for trolling people for publicity. He denies that this incident has anything to do with his new track with Nicki Minaj.
Chat About Tekashi69 Believes Robbery Was An "Inside Job"