Three Days Grace Celebrate Record-Setting Night at iHeartRadio Theater
By Andrew Magnotta
August 6, 2018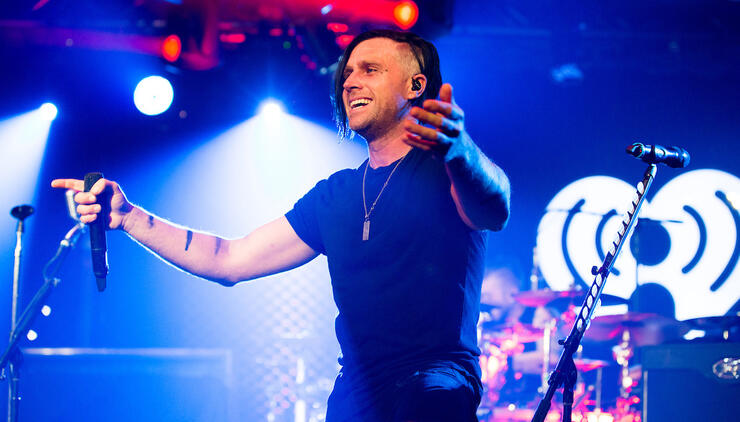 Three Days Grace arrived at New York's iHeartRadio Theater with the most No. 1 active rock singles in history with an staggering 14.
With perseverance anthem "The Mountain," Three Days Grace eclipsed Rock and Roll Hall of Famers Van Halen's 13 No. 1s, and with their latest album, Outsider, still fresh, the band could grab the top spot again before the year is finished.
iHeartRadio's Abby Krizner asked the band members at the top of the show why they were so intent on seeking out a new environment to write and record Outsider.
"We've done almost every one of our records at our rehearsal spot in downtown Toronto," said guitarist Barry Stock. "We wanted to go to a place that was peaceful with campfires and stuff (laughs)."
But campfires are a bigger part of Three Days Grace's creative process than one might think for a heavy rocking, hard touring band.
Drummer Neil Sanderson elaborated that before a song makes a Three Days Grace album, the band determines how the song would work on one guitar around a campfire.
"No matter how heavy the song is we've always had this process of breaking it down to one acoustic guitar and one vocal," he said. "We record it like that and then we go to bed…if it still sounds good [when we wake up], then it's probably a pretty good song."
So the band members found a new spot to be alone with their ideas and inspiration to begin crafting the follow-up to 2015's Human.
Outsider is Three Days Grace's second album with frontman Matt Waist, who says with one album under his belt, and a whole lot of touring, he's reached a new level of comfort with his bandmates when it was time to record again.
"I think I'm just a lot more comfortable," he said. "We've been everywhere together now. I feel more comfortable bringing my ideas to the table now…and also more comfortable in the vocal booth."
Sanderson added that there's always been a lot of trust amongst the band members, and the creative process with Outsider was as collaborative as any prior record. The key is being able to take criticism.
"If the rest of the guys are like, 'That's whack,' just because you don't like my idea doesn't mean you don't like me," Sanderson said. "We all play guitar and we all write lyrics and melody, so we just kind of pick the best from everybody."
Whether Three Days Grace has another No. 1 song in them for this album is anyone's guess, but "Infra-red" shows a lot of promise.
Waist said the song was an early pick for a single by many in Three Days Grace's circle.
You can listen to "Infra-Red" below; you'll see what they're talking about!
Get tour information and more info on Outsider here.
Photos: Rachel Kaplan for iHeartRadio
Chat About Three Days Grace Celebrate Record-Setting Night at iHeartRadio Theater