Guns N' Roses Wants to Make New Music, Slash Says
By Andrew Magnotta
August 6, 2018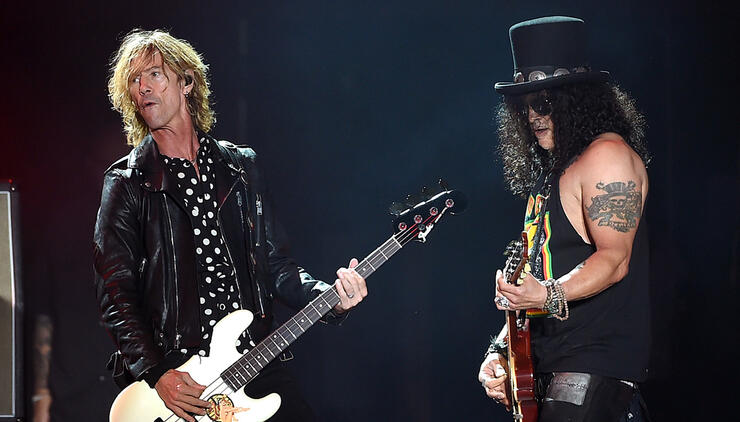 Slash says new music by the latest version of Guns N' Roses is very much a possibility.
The guitarist says it seems like all the band members are on board, but they probably won't get into the studio to work on anything until their Not in This Lifetime tour concludes. The tour has dates booked through November 29.
"It's been talked about," Slash told Eddie Trunk, regarding the prospect of new GNR songs. "I think everybody wants to do it, and we'll just see what happens.
The Not in This Lifetime world tour is now in its second year as one of the most profitable tours in all of entertainment. It features Axl Rose reunited with two of the band's highest profile classic members, Slash and bassist Duff McKagan.
In a recent interview, Rose left the door open to writing new tunes with his bandmates, saying "everyone seems to be getting along so you never know."
Slash and Duff left GNR in the mid-'90s over a host of disagreements and mounting frustrations with Rose and his leadership of the group. The pair, especially Slash, had little to no personal relationship with the singer for the next decade-plus. McKagan reconciled with Rose a few years prior to the reunion. News of Rose and Slash mending fences took many fans by surprise.
The rest of the current iteration of Guns N' Roses includes keyboardist Dizzy Reed (the band's longest-tenure member besides Rose), keyboardist Melissa Reese, guitarist Richard Fortus and drummer Frank Ferrer.
The band's last studio effort was its infamous Chinese Democracy album in 2008. The last GNR album on which Slash and McKagan appeared was 1993's Spaghetti Incident.
Get GNR's tour dates here.
Photo: Getty Images