Kristen Bell Defends Her Pool Gloves: It's A Medical Condition
By Emily Lee
August 9, 2018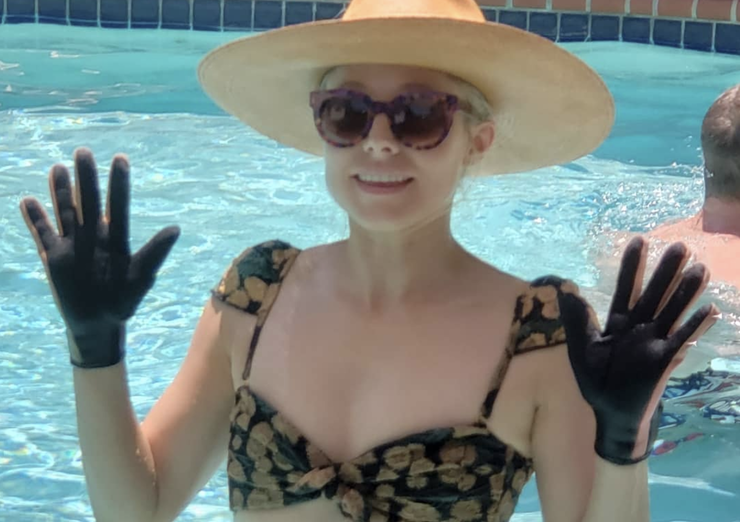 Dax Shepard made an appearance on Jimmy Kimmel Live! back in June where he shared a photo of his wife, Kristen Bell, wearing gloves in the pool. He originally captioned the photo of Bell rocking "pool gloves" on his Instagram account, captioning the hilarious shot, "My bride wears gloves in the pool because she hates the feeling of pruney finger tips on skin." He told Jimmy Kimmel that it was "Weirder to me than her even having this proclivity is that someone is manufacturing pool gloves!"
About a month after Shepard's appearance on the show, Bell made her own appearance. Kimmel, of course, couldn't help but ask her about the whole "pool gloves" situation. Bell happily explained her reasoning for wearing gloves while she goes swimming.
"I'm acutely aware of the ridges in fingertips," she said. "I would call it a very serious, undiagnosed, and yet to be discovered medical condition that tens of other people in America may suffer from."
Bell explains that when she touches the ridges in her finger tips, she's able to feel them "like a baseline at a club that's too much. And when they're wet, it's, like, I'll puke. I will truly puke."
While this is all extremely fascinating, Bell didn't actually start wearing the gloves until her kids were old enough to swim. "When your children are in the pool, you need to grab them. The problem is, my very serious medical condition makes me want to step back and I don't want to grab my kid. Well, this can't happen."
Luckily, there's a solution to this problem: pool gloves. Genius.
Chat About Kristen Bell Defends Her Pool Gloves: It's A Medical Condition