Narcan Kit Saves K-9 Officer After Exposure to Heroin in Oregon Jail
By RJ Johnson - @rickerthewriter
August 9, 2018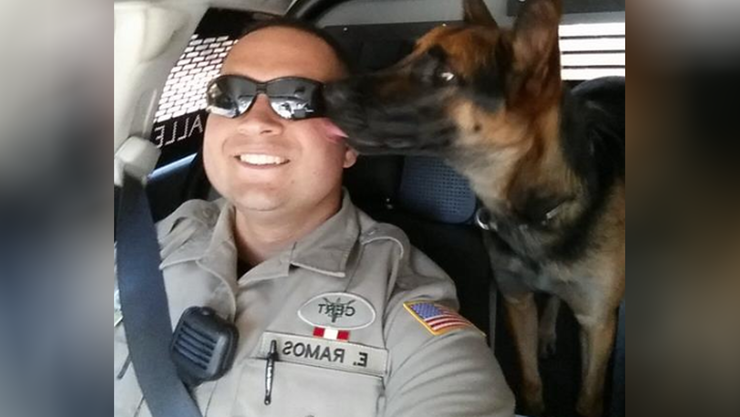 Narcan, a drug that can immediately reverse the effects of an opioid overdose isn't just a lifesaver for humans any more. Now, kits designed for canines experiencing an opioid overdose are available and are already saving K-9 officer's lives.
Thanks to a donated Narcan kit designed for dogs, an Oregon sheriff's deputy was able to save his drug-detection dog after the K-9 ran into some contraband heroin in the Clackamas County jail.
According to a news release from the Clackamas County Sheriff's Office, K-9 Abbie and her handler Deputy Eliseo Ramos were conducting a routine search for contraband in the Clackamas County jail when the dog alerted on some smuggled heroin located on top of a hygiene container under a table.
At one point, the container spilled, and the K-9 officer was exposed to the heroin. Abbie began exhibiting signs of drug exposure, including excessive saliva, rapid head shaking and blinking.
Fortunately, another K-9 handler, Deputy McGlothin, was nearby and able to deliver a special Narcan kit designed for drug-sniffing dogs. The Narcan dose successfully stabilized Abbie, who was then transported to a nearby animal hospital for further treatment.
Abbie was held overnight and released Wednesday morning according to the release.
Narcan contains nalaxone, a drug designed to immediately reverse the effects of opioids like heroin, fentanyl and carfentanil by blocking the body's opiate receptors. Thanks to a recent public donation drive, the Clackamas County Sheriff's Office was able to purchase several kits for the unit's drug-detection dogs.
Narcan has been crucial in saving lives over the last few years, including singer Demi Lovato, who was rushed to the hospital last month after suffering an apparent overdose. Paramedics were able to revive the pop singer with a life-saving dose of Narcan.
Drug-sniffing dogs are just the latest victims in a growing opioid epidemic that has spread across the United States in recent years. Police say K-9 units searching for illicit drugs are often exposed to lethal amounts of opioids, including fentanyl.
Groups like Illinois Vet Med are working with local police to help train K-9 handlers to spot the signs of drug overdoses in dogs and how to handle the situation when they are exposed to a dangerous amount of opioids.
Photo: Clackamas County Sheriff's Office