YG Fires Back After Tekashi 6ix9ine Mocks Him On Instagram
By Peyton Blakemore
August 9, 2018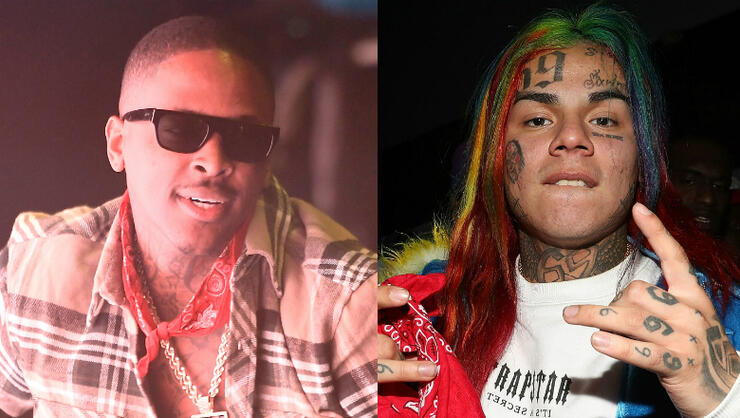 YG is done with the Twitter fingers.
The "Big Bank" rapper has had enough of his social media beef with Tekashi 6ix9ine, but it's not because he's ready to make peace. After 6ix9ine posted a disrespectful rant targeted at YG on Wednesday (August 8), YG reposted the video to his Instagram on Thursday, with the caption: "CANT WAIT TILL WE MEET @6ix9ine."
Many took YG's caption as a warning to the 22-year-old rapper since YG and 6ix9ine have never met — they've only exchanged words via social media.
So, how did they get to this point? Well, the rappers' feud seemed to go into overdrive after YG addressed his song "Su Whoop," where he raps "F**k all the fake Bloods," while appearing on The Breakfast Club on Wednesday. Many have claimed that the "I ain't with the pink-haired Blood s*it" lines are directed at 6ix9ine, which YG didn't deny.
"I ain't come to The Breakfast Club to talk about this n**ga. It is in 'Su Whoop' and yeah, that's how I feel — so what? The little n**ga was playing with too much of the real shit and I had to say something," YG said. "It is what it is. n**gas know what's up, but I don't like all that sh*t."
The "FEFE" rapper then responded by posting a rant (the one YG later reposted) mocking YG for the success of his single "Big Bank."
"YG, suck my f**kin' di*k, stupid. Your last single before your album came out had four major artists on there. You had 2 Chainz, you had Nicki Minaj and you had Big Sean. How's my record doing better than your sh*t? You a whole bum out here," he said. "Stop going on radio stations tryna promote your album mentioning my name."
Nicki Minaj, who recently collaborated with 6ix9ine for their single "FEFE," even got in the middle of their beef in an effort to diffuse the situation since she's friends with both rappers.
"I told you to chill Daniel," she commented in response to 6ix9ine's reaction to YG's Breakfast Club interview. "You know 'Big Bank' went gold before 'Fefe' right babe? Stop trolling." She later added, "@6ix9ine both songs are [flame emoji]."
Chat About YG Fires Back After Tekashi 6ix9ine Mocks Him On Instagram