Rascal Flatts Abruptly End Show in Indiana Due to "Security Issue"
By Katrina Nattress
August 10, 2018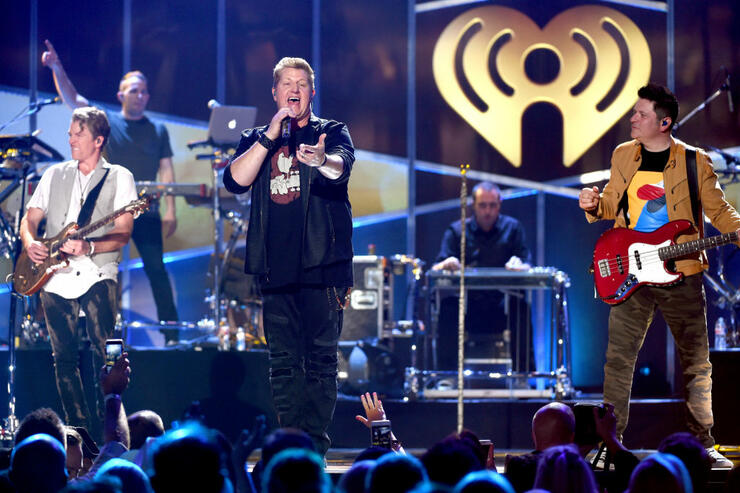 The night didn't end the way anyone wanted to when Rascal Flatts were forced to cut their show at Ruoff Home Mortgage Music Center in Noblesville, Indiana short.
The country superstars left the stage for what fans thought was a short intermission before an encore, but the band never returned to the stage. At the time, no one knew why Gary LeVox, Jay DeMarcus and Joe Don Rooney abruptly stopped their performance, and according to IndyStar, fans were pretty ticked off when they didn't get to hear two hits: "God Bless the Broken Road" and "Life is a Highway."
Though the reasons for the jarring ending are still unclear, it appears like security concerns have something to do with it.
"Due to a security concern at the show last night, standard procedures were quickly executed and everyone was able to safely leave the building," Rascal Flatts explained on Friday (August 10) via Twitter. "The safety of our fans, band and crew is always the top priority for us, so we are so thankful for everyone who jumped into action and for your understanding. We will be back soon!"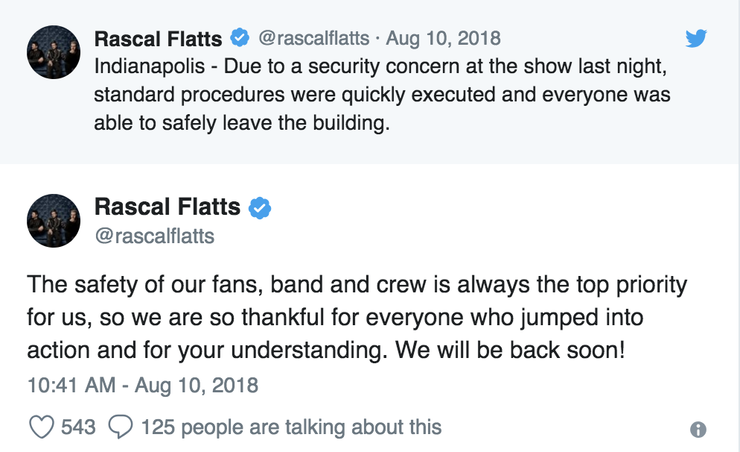 When asked about the situation, the Hamilton County Sheriff's Office stated it was an open investigation and didn't share any further details.
One fan did see some disruption going on in the general admission "pit" close to the stage right before the set ended. "(Rascal Flatts) had just finished their song 'Banjo' and did the what-was-thought-to-be-false 'Good night' before the encore," Andy VonDielingen told IndyStar. "Their piano player started to play and then just stopped and left. A few minutes later lights come on and security is pulling some guy looking to be in his 20s out of the pit. ... Everyone is standing around, looking at each other and wondering what is going on."
Though safety issues are always frightening to deal with, the venue must believe this was a stand-alone occurrence, as Paul Rogers and Jeff Beck were still scheduled to play Friday night (August 10th).
Photo: Getty Images
Chat About Rascal Flatts Abruptly End Show in Indiana Due to "Security Issue"