Ty Dolla $ign Calls Lauren Jauregui The 'Hottest Woman On The Planet'
By Peyton Blakemore
August 13, 2018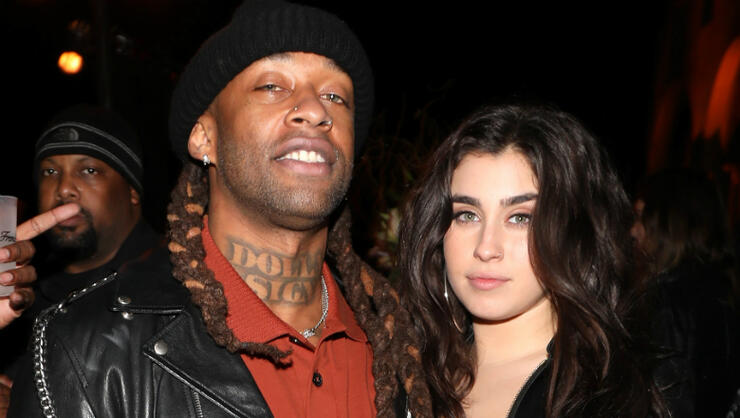 Ty Dolla $ign is one proud boyfriend. On Monday (August 13), the "Famous" rapper posted a sweet message to his girlfriend Lauren Jauregui to congratulate her for winning two Teen Choice Awards on Sunday (August 12).
"Congrats to the hottest woman on the planet ! Mine ❤️ 🙌🏾 a whole legend," he captioned a photo of his girlfriend after she won Choice Female Hottie and Choice Electric Dance Song for her collaboration with Steve Aoki on "All Night."
It was a special night for the former Fifth Harmony member, who recently launched her solo career after the group announced their indefinite hiatus in March.
"We tried our best to be ourselves," Lauren told Playboy following their split, "[but] we were also adolescents. So, you have to think about who you were at that age and being thrown in front of cameras."
She added, "When you're really disconnected from who you are and you're ashamed of it, you can write and tell a story, but you can never really tell your story. That's what separates a lot of artists from others — the connection."
One connection that is strong in Lauren's life is hers with Ty. For his birthday in April, Lauren penned a beautiful birthday tribute on Instagram, expressing her love for him.
"Happy Happy HAAPPPPYYYY Birthday to this incredible man. Thank you for your love, your guidance, your loyalty, your soul. You've taught me more than I can ever explain or thank you for and you continue to inspire and amaze me every single day," she captioned a kissing photo of the two. "It was so lovely to sit at Delilah's with you last night just like we did last year on your birthday and know I'm even more in love with you than then. You make my heart beat in patterns I've never felt. I'm so grateful you were born and brought into my life. I love you baby love, HAPPY BIRTHDAY!!"
After months of avoiding relationship questions, Lauren and Ty officially went public with their relationship in October 2017.
Chat About Ty Dolla $ign Calls Lauren Jauregui The 'Hottest Woman On The Planet'