New Hollywood Vampires Album Is About Johnny Depp, Says Alice Cooper
By Andrew Magnotta
August 15, 2018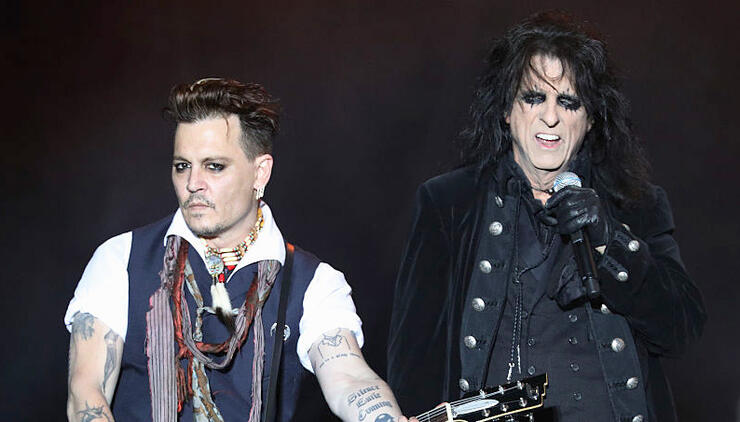 Alice Cooper has been around a long time and he's experienced a lot in music, but he's never left songwriting up to others.
That's why the King of Shock Rock is so excited about the sophomore effort by his Hollywood Vampires supergroup; for the first time in his career, Cooper only has to worry about his performance on record.
About "90 percent" of the music and lyrics on the band's upcoming release are being handled by Johnny Depp, Joe Perry and Tommy Henriksen, with Depp handling most of the words, according to Cooper.
"I come in and do a little surgery on the lyrics," Cooper explained in a new interview with Ultimate Classic Rock. "But it's interesting for me to be singing about Johnny's angst."
The so-called "angst" is Cooper's way of referencing a myriad of Depp's well-documented personal and legal concerns, including a highly-public divorce with actress Amber Heard, lawsuits against his former business managers and tens of millions of dollars in apparent debt.
"It stretches me a little bit," Cooper explains of his job of interpreting and personifying Depp's lyrics, "because I have to listen to the lyrics and go, 'Oh, okay, I see what he's saying here.' For once, I'm not really doing all of my songs; I'm doing somebody else's songs."
Cooper has 27 studio albums under his belt under the "Alice Cooper" moniker, plus the Hollywood Vampires' 2015 debut and assorted other contributions. But he says everyone gets stuck in their own ways after a while. Sitting back while others realize their creative vision, has provided him with material unlike anything he's worked with before.
"So when every once in a while you have to do something else that makes you uncomfortable, that's a good thing," he continued. "It stretches you into this place and it makes you think, 'Okay, now how do I interpret this song? Because I didn't write this. So how am I going to do this? Normally, that would be easy to do. This makes it a little harder and that's a good thing in art. Art should always stretch you."
Between touring with his solo band and with Hollywood Vampires, Cooper has taken little time off over the past few years.
Currently, Cooper is gearing up to release a live album August, 31, A Paranormal Evening at the Olympia Paris, and he has tour dates booked through October. See them here.
Hollywood Vampires is expected to get back on the road next year.
Photo: Getty Images