Ariana Grande Releases New Album 'Sweetener': 13 Facts to Know
By Taylor Fields
August 17, 2018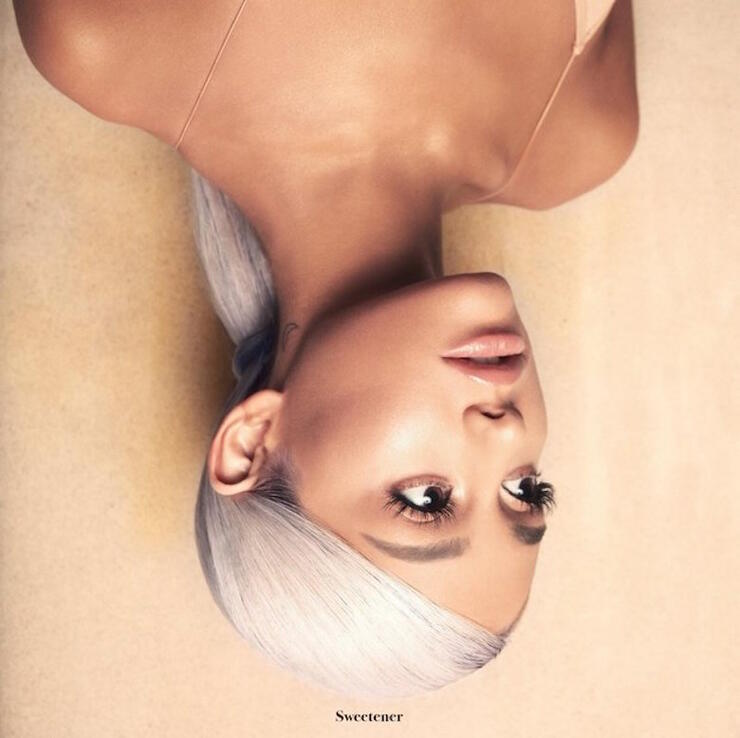 The day has finally arrived! Ariana Grande's new album Sweetener has officially been released and now fans, at long last, have their hands on all the new songs the pop star has been teasing over the last few months.
Sweetener is Ariana's fourth full-length studio album and follows 2016's Dangerous Woman. The new LP showcases 15 new songs, including lead single "no tears left to cry," her Nicki Minaj collab "the light is coming," and her latest single, "God is a woman." Sweetener also includes features from Pharrell Williams and Missy Elliott.
Since releasing "no tears left to cry" (and even before that), Ari has been spilling the tea about Sweetener left and right, not only in interviews, but also on Twitter, where she talks to her fans every day. Take a look at some of the facts you should know about Sweetener below.
1. The album title, Sweetener, has an uplifting meaning.
On a Tonight Show appearance, Ariana opened up about her new album and its title, explaining, "I've been away too long. I want to say everything." She added, "It's kind of about bringing light to a situation or to someone's life, or somebody else brings life to your life. Sweetening the situation."
2. In "Raindrops," Ari covers a part of a song from the '50s that, coincidentally, her beloved late grandfather's friend helped write.
Ariana explained on The Tonight Show of the very first track on Sweetener, "It's like a cover of a small part of a song from the '50s called "An Angel Cried," and I had it in my head. We were really close to finishing the album, and I had it in my head, and I said to Max [Martin], I said, 'You know what? Let me just record this little part a capella, let's just go in and do it, and maybe we can chop it up and sample it or something. Or make a beat out of it, or whatever.' Anyway, I do it, and Max was like, 'Let's not touch that. Just leave it like that.' And so, that's how the album starts. And I went to go check to see who wrote it, I mean, I was curious. And so, it turns out, this is so crazy, y'all are gonna think I'm lying, but, my grandfather's best friend, who I grew up hanging out with in Boca, Charlie Calello, wrote it with Bob Gaudio from The Four Seasons, and that just really gave me goosebumps."
3. Everything in the Sweetener era has been upside down for a reason.
On Twitter, a fan asked Ariana how she came up with the upside down idea, and the pop star shared a story of how one of her best friends, Aaron, helped shed some light for her. She said, "I showed Aaron a photo and he was sitting opposite me and he said 'I even love it upsidedown' and that was kind of it for me at the time i had been feeling v 'upsidedown' for a while & the simplicity of that was like oh duh wow my bestie a genius. everything clicked after that."
4. "God is a woman" is her Nonna's favorite on the album.
Ari told Jimmy Fallon, "She loves 'God Is A Woman,'" the singer told Fallon. "I'll ask her, 'Hey Nonna, what do you think of my single? Do you like No Tears Left To Cry?' She was like, 'I love it...but you know Ariana, can we listen to God Is A Woman again?'"
5. Speaking of favorites, some of Ari's fiancé's faves include, "God is a woman," "Pete Davidson," "R.E.M.," "Sweetener," and "Better Off."
In a Twitter video Ari posted, Pete Davidson is behind the wheel on a nighttime drive, and lists his Top Five Sweetener songs. He said, "My top 5? 'God Is a Woman' because that s*** f***s hard. Seriously that s*** bangs. That slaps hard. That and then my song, which is called 'Pete,' which is pretty sick. 'Cause that's me. And then I'll go 'R.E.M.' And then I would go 'Sweetener' because it's just very happy and very fun. And 'Better Off' because it's sick. They're all sick."
*Warning: Explicit Language
6. Also, here are Ari's (ever-changing) faves:
7. Ari took the lead while writing songs for Sweetener, which she has never really done before.
Grande explained in an interview with Time magazine, "I was just so excited about singing. So I co-wrote, but I was never as involved."
8. On "no tears left to cry" and "God is a woman," where it sounds like a choir, it's really just Ari's voice layered. Like a choir of Arianas.
In her Time interview, the magazine's Sam Lansky writes, "There are several moments on the record—both on the lead single and on an anthemic, sultry banger called 'God Is a Woman'—in which Grande's voice is layered so that it sounds like a choir, but really, it's only her, multiplied."
9. It's pronounced "R.E.M." and not "REM."
10. The bee at the end of the "no tears left to cry" music video is a tribute to Manchester.
The worker bee is a well-known symbol of the city of Manchester. At the end of Ari's "no tears left to cry" video, she throws a ball to her dog, which turns into a bee. Additionally, at the end of "Get Well Soon," there is 40 seconds of silence to honor the victims of the Manchester bombing.
11. The song "Pete Davidson" was originally just called "Pete" before she decided to change it to her fiancé's full name.
In a tweet, Ariana explained of the song, "I like the way it looks. I love his name and I love him. Music lasts forever. It'll outlive any tattoo, any memory, any anything, even myself so I want my love for him and how I feel to be a part of that."
12. If you still enjoy "Honeymoon Avenue" from Ari's debut album Yours Truly, Sweetener's "Get Well Soon" is the grownup version.
13. There are three features on Sweetener: Nicki Minaj ("the light is coming"), Pharrell Williams ("blazed"), and Missy Elliott ("borderline").
Hear songs from Ariana Grande's Sweetener throughout album release day (8/17) across iHeartMedia radio stations throughout the country and on iHeartRadio's Hit Nation.
Chat About Ariana Grande Releases New Album 'Sweetener': 13 Facts to Know