Korn Frontman Jonathan Davis' Estranged Wife Dead At 39
By Lauren Crawford
August 18, 2018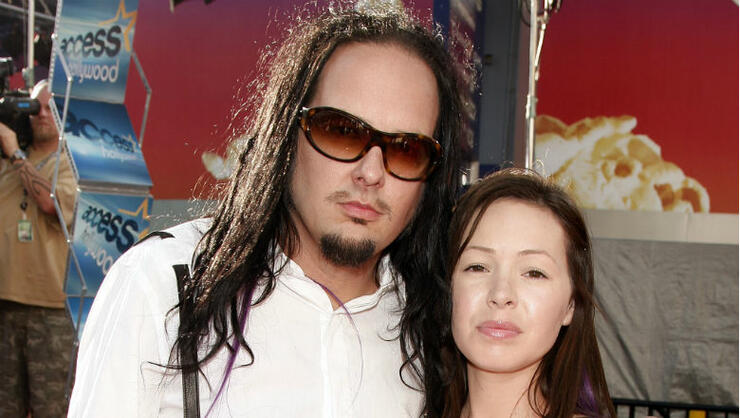 Korn frontman Jonathan Davis' estranged wife Deven Davis has died at the age of 39, TMZ reports.
While a cause of death has not yet been revealed, Deven reportedly suffered from sobriety and substance abuse for more than 20 years.
"The Davis family is brokenhearted over the devastating loss of Deven Davis," the family said in a statement to People. "We ask that you respect their privacy — and the privacy of those close to the family — and allow them the space to mourn in private. We thank you for your love, understanding and prayers of support during this difficult time."
According to TMZ, the Korn frontman was granted a temporary domestic violence restraining order against the former porn star, which blocked Deven from visiting her and Jonathan's two children and their family dog, on Friday (August 17).
In the documents, Jonathan claimed that Deven was addicted to prescription and illegal narcotics and was causing emotional harm to their two children through neglect. He also claimed that his estranged wife "is constantly under the influence of the nitrous oxide, cocaine and Norco."
Jonathan additionally alleged in the documents that Deven had recently been in a sober home but relapsed last Friday and hadn't been seen for a week.
Jonathan filed for divorce from Deven in October 2016.
Photo: Getty Images
Chat About Korn Frontman Jonathan Davis' Estranged Wife Dead At 39