Nicki Minaj Defends Normani After VMAs Diss
By Emily Lee
August 20, 2018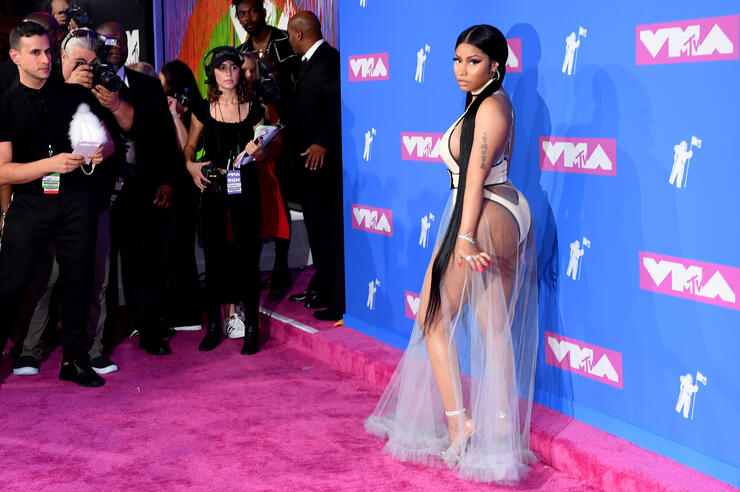 The MTV Video Music Awards (VMAs) never disappoint to deliver boiling hot tea for viewers to drink up. The night kicked off with a shade-filled monologue delivered by Kevin Hart and Tiffany Haddish. When they turned their attention to Camila Cabello, Haddish delivered a Fifth Harmony diss that received an audible gasp from the audience. They were *that* shook. "For those of you watching at home," Tiffany said when addressing Cabello. "Hi, Fifth Harmony." She really went there!
At the end of the monologue, Hart and Haddish presented the first award of the night to Nicki Minaj. Before delivering her thanks to everybody who helped bring her album Queen to life, Minaj made sure to defend her girl Normani. Minaj looked right at Haddish and said, "Don't be coming for Fifth Harmony because Normani is that b***h!"
Haddish didn't seem mad that Minaj called her out the VMAs stage. In fact, she seemed pretty delighted. She clapped along with the crowd after Minaj defended Fifth Harmony and Normani. Minaj made sure to tell Haddish that she still loves her, too, so it seems like all is well between the two.
For what it's worth, Normani and the rest of Fifth Harmony probably aren't sweating the job too much. While Cabello got a head start on her solo career, the rest of the girls - including Normani - have all signed solo record deals since the group called it quits. Normani recently released "Love Lies," her collab with Khalid, as well, so we'll be sure to see Normani at future VMAs for years to come. She's just getting started as a solo artist and the best is definitely yet to come.
Photo: Getty
Chat About Nicki Minaj Defends Normani After VMAs Diss