Kylie Jenner Literally Ran Away From Nicki Minaj on the VMAs Red Carpet
By Katrina Nattress
August 22, 2018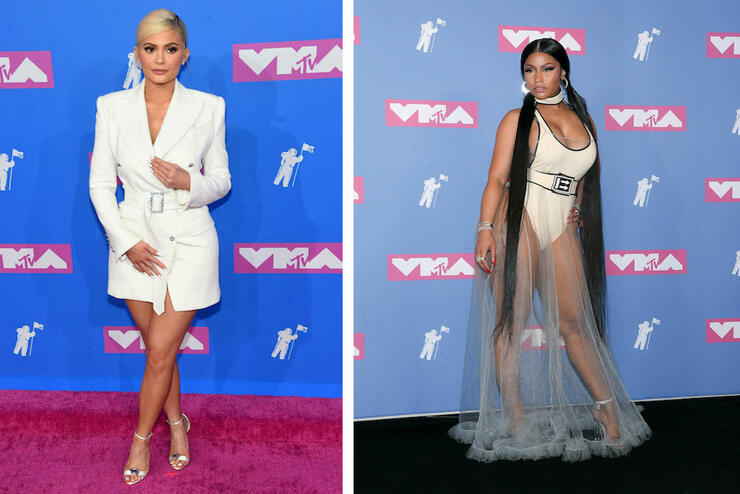 What are the VMAs without a little bit of drama?
The day before the big event (August 19) Nicki Minaj aired her dirty laundry on Twitter, claiming her album Queen should be No. 1 on the Billboard Hot 200 chart, not Travis Scott's Astroworld. Her reasoning was because a good amount of Travis's album sales were figured through free downloads offered with concert ticket purchases that didn't need to be redeemed in order to count as a sale unit. She also called out the rapper's girlfriend and baby momma, Kylie Jenner, for helping him promote the tour, writing "I put my blood sweat and tears into writing a dope album only for Travis Scott to have Kylie Jenner post a tour pass telling ppl to come see her and Stormi. lol."
By the time the VMAs came around, Kylie and Travis understandably wanted to avoid Nicki at all costs. TMZ reported that the couple was originally seated right behind the "Chun-Li" rapper and asked to get moved, but Kylie almost had a run-in with her new nemesis on the red, er pink, carpet.
TMZ caught video of Nicki's grand entrance at Radio City Music Hall, and the young entrepreneur began walking her direction from the other side. When she spotted the emcee, she swiftly turned around and had a chat with her crew before beelining it to a crowd of screaming fans to distract herself from the awkward near-confrontation. Could the drama be what Nicki and Ariana Grande were gossiping about during the show?
Watch the footage below.
The tweets weren't the only shade Nick gave the couple. On Tuesday (August 21), she put them on blast again during her radio show, calling Travis "You stupid f**k. You got your f**king homeboy talking for you and you got your girlfriend selling tour passes. Stop it. Knock it the f**k off."
After going off, she tried to reel it back in, claiming she's not as mad as she seems. "Having said that, none of this is some serious anger s**t. No, we are in a time right now where black music is prospering," she noted. "And I am one of the people who, I'm so excited to see where rap has come from and where we are. But right is right and wrong is wrong."
On Wednesday (August 22), Travis posted two adorable photos with his daughter Stormi that some are taking as a jab at Nicki. "Big mood ! Teach my stormi to love I'll forever protect that smile," he captioned the post.
Take a look at them below.
Chat About Kylie Jenner Literally Ran Away From Nicki Minaj on the VMAs Red Carpet