Pink Walks Into Crowd To Comfort Grieving Fan At Brisbane Show
By Paris Close
August 22, 2018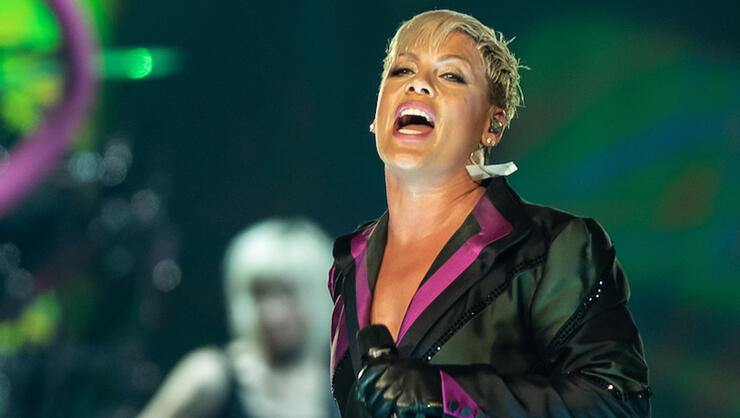 Pink answered the wishes of a mourning fan at her Australia show, and we seriously cannot stop crying.
Leah Murphy was in attendance for the concert in Brisbane last night (August 21), a moment the 14-year-old had hoped to share with her mother, Debbie Murphy, who regarded the "What About Us" singer as one of her idols.
CBS News reports Debbie died months before she was able to attend the show, so Leah went in her place.
In hopes of getting Pink to send a message of love to her grieving relative, her aunt, Katrina Donkin, brought signs to the show that read, "My name is Leah – I'm 14 years old. I lost my beautiful Mum last month. I would LOVE a hug … Please!"
The poster moved loving concertgoers to pass and wave the sign whenever the pop star looked their way until it eventually caught her attention. After realizing the message, Pink stepped down from the stage to find and give the Australian teen a reassuring embrace.
"Pink said to her 'you're pretty -oh don't cry - it's going to be ok,'" Donkin told the outlet. "Leah told Pink how much her mum loved her." Pink also snapped a few selfies with Leah before returning to the stage to close her performance.
"She is so heartbroken," Donkin said. "But since the concert, she hasn't stopped smiling and singing."
She continued: "She hugged her so tight Leah cried. It was so beautiful and so meaningful. We think her mum sent her a hug from heaven."
The tearful moment comes just weeks after the 38-year-old superstar had to pause one of her "Beautiful Trauma World Tour" dates due to illness following her previous hospitalization as a result of dehydration and a gastric virus.
Photo: Getty Images
Chat About Pink Walks Into Crowd To Comfort Grieving Fan At Brisbane Show